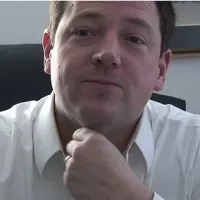 Ed Martin is now MO Republican Party Chairman
After failed attempts to become a Missouri (1) congressman, (2) senator, (3) congressman (again) and (4) attorney general, Ed Martin has at last found success.
On Saturday he was elected as chairman of Missouri's Republican Party.
It's
considered
a victory for the more extreme elements of the state GOP, because establishment Republicans -- including all six Republican house members and Senator Roy Blunt -- backed Martin's opponent, David Cole.
It also elicited the exact same joke from many in the twattering class.
From Tony Messenger of the
Post-Dispatch
's editorial board:
From conservative pundit (and native St. Louisan) Dana Loesch:
From Caitlin Legacki, spokeswoman for Senator Claire McCaskill's most recent campaign
From Adam Allington of KWMU 90.7 FM
You can disagree vehemently with Martin's politics, or question his ethics as far as they were revealed in the
Memogate contrversy
, but you must give the guy credit in one area: He gets knocked down, but --
Chumbawambalike
-- gets back up again. And again. And again. And again. And again. Even though Missouri voters haven't ever fully embraced him.
Perhaps it's telling that his sole election victory occurred when only conservatives were voting (though even then, it was a squeaker, with a final tally of 34 to 32).
Maybe he's finally found a home.
Related Content