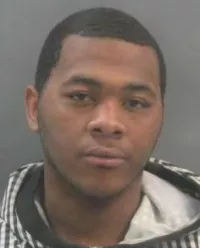 Isadore Glover, age 21, is charged with robbing two banks within the past week
Isadore E. Glover, a 21-year-old from
the O'Fallon neighborhood
, has started out 2013 by getting charged with robbery of not one but TWO different banks -- robberies, by the way, that did not always go smoothly.
The first one occurred on Saturday, at the PNC bank at
4323 North Grand Boulevard
, according to
online court records
. At 10:23 am on that day, Glover walked into the bank, handed the teller a note instructing her to give him money and threatening to kill her if she wouldn't.
So she handed over about $240 -- but it contained an exploding ink device.
Once Glover left, the ink pack exploded. Witnesses apparently saw Glover trying to get rid of the stained money. Fail!
But Glover tried again on New Year's Eve.
At 10:13 am on Monday, he went into the Bank of America at
2604 South Jefferson Avenue
. Same M.O. -- he handed a note to the teller threatening to kill her if she didn't cooperate. So she gave him money.
Glover was later arrested and -- prosecutors say -- he admitted to both crimes. He now faces two different counts of first-degree robbery.
On Thursday, he was being held on cash-only bond of $100,000.