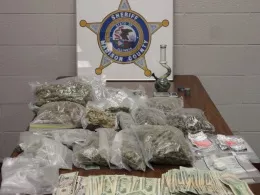 Madison County Sheriff found a fat stash of drugs over the weekend
Investigators at the Madison County Sheriff's Office say they got tipped off on Friday about a big ol' stash of drugs at 2704 Queen Street in Godfrey.
So they secured a search warrant and visited the residence. Sure enough, they found
Eight pounds of pot
Seventeen grams of cocaine
Forty-six doses of LSD
Drug paraphernalia and $1300+ in cash
Take a gander at the photo! That stuff would've made for quite a New Year's Eve, had it been recreational. To the deputies, however, it appeared more entrepreneurial.
Total street value of the drugs was estimated at $22,000.
William Noe, 25, and girlfriend Ashley Welch, 22
Police have arrested William A. Noe, 25, and his girlfriend, Ashley A. Welch, age 22 They live in the basement of the residence, deputies are reporting.
Bond was set at half a million dollars for each defendant.