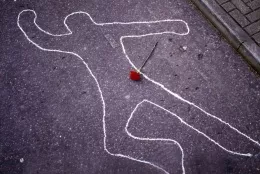 The city's murder tally hasn't changed from last year
The city of St. Louis saw 113 homicides in 2012 -- the exact same tally as the previous year.
Some of these homicides got more press than others.
Sarah Billingsley-Walker, age 18, was Vashon High School's homecoming queen and co-valedictorian. She was
strangled
to death.
Aniya Cook, also 18, was a National Honors Student bound for Missouri State University. She was
shot to death
on the street in North St. Louis. So was Megan Boken, a 23-year-old former SLU volleyball player
murdered
in broad daylight in the Central West End.
Some homicides seemed absurd.
Roger Wilkes, 42, was reportedly
murdered
in a dispute about a bag of Cheetos.
Then there were the homicides that didn't garner too much attention but were just as awful. Take your pick. Ashley Moorhead comes to my mind. She was a 26-year-old,
strangled and dumped into a trash bin
near Cherokee Street.
That murder occurred two blocks from my apartment. You tend to remember those.
I recently remarked in a conversation with
Rick Rosenfeld
, the UMSL professor and criminologist-in-residence at City Hall, that our city sure seemed to have far more murder cases than prosecutors are ever able to charge.
"That's true, and we're not alone in that," he said, adding that other big U.S. cities have the same problem. Rosenfeld thinks
hot-spot policing
could help deter homicide. Our new chief, Sam Dotson,
sounds like
he's on board with that idea.
Let's hope they're right.