Probably the most talked-about crime in St. Louis this year was the murder of Megan Boken. Boken, a 23-year-old SLU graduate who had returned to town to play in an alumni volleyball game, was sitting in a parked car in the Central West End on a Saturday afternoon in August when a teenager opened the driver-side door and shot her to death.
See also: Ten Dumbest Criminals of 2012
The Boken case alarmed St. Louisans because the murder happened in broad daylight in a safe neighborhood (and, let's face it, because the victim was young, white and educated -- see item three on this list). But there were plenty of other crimes in St. Louis this year. Here's a look back at the ten worst.
Ingram and Kintz. Dog not pictured.
10. Dog Molester: Police got more than they bargained for when they arrived at Dana Kintz and Shawn Ingram's south St. Louis home back in May. Kintz had originally called 911 to complain that Ingram had hit her. Upon checking Ingram's record, the cops discovered he'd been arrested for child pornography possession in Illinois. A search of Ingram's phone proved he hadn't quite broken the habit. And then Kintz told the police that Ingram had made her perform oral sex on their dog and taken pictures which, yes, were on his phone, too. Both Ingram and Kintz were charged with misdemeanors. The dog has run away.
9. Unwanted Visitor: David J. Keithley of Marshfield, Missouri, complained "had needs because he's a married man and not 'getting any.'" Which is probably why he felt the need to sexually assault his friend while she was under heavy sedation in the hospital. Of course he denied it when she woke up with a slightly unsettling feeling that something weird had happened, but it had all been recorded by the hospital security cameras. 8. Fake Cop: A 27-year-old woman was out for a walk with a friend in south city one evening last summer when a cop appeared, informed her he was a St. Louis County cop and that she was trespassing. He cuffed her, told her friend to leave and then took her behind a building to rape her. Needless to say, this man was not a cop. His name was Andrey Levkovsky and he has been charged with forcible rape, forcible sodomy, armed criminal action, impersonating a law officer and kidnapping.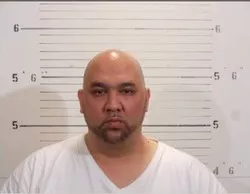 7. Worst Stepdad: James Jennings of Scott Air Force Base became enraged that his 12-year-old stepson sneaked cookies in the middle of the night and left crumbs on the floor. His dogs would get sick if they ate those crumbs! As punishment, Jennings forced the boy to do hundreds of knuckle push-ups, then beat him with a paddle until the paddle broke and finally made him eat two screws he found lying on the floor. Jennings then sent the kid to school, where the school nurse noticed signs of abuse and called the police. The boy's mother, Lashawn M. Jennings, wasn't present for the screw-eating incident, but police also charged her for her role in other instances of abuse. The boy is now in foster care.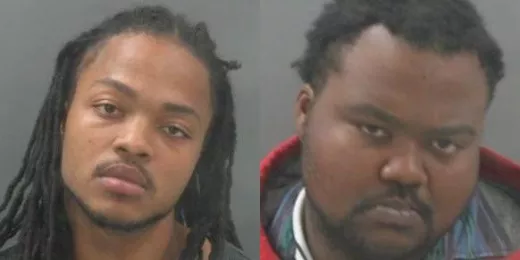 Vincent Newman, 24, and his brother Joseph, 25
6. Rob-Then-Shoot Robbers: A string of robberies near the nexus of I-44 and Grand Boulevard last Fall had residents there living on edge.
On October 16, a twenty-year-old woman was walking from the bus stop to her mother's house on the 3400 block of Russell when a man robbed her of her Samsung Galaxy tablet, a T-Mobile Sidekick cell phone and cash. She fell down and broke her arm. The robber then shot her in the face, leaving her with a bullet wound in her left cheek.
Then, early on October 24, a med student walking out to her car was accosted by a man with a gun. She and her belongings all ended up on the ground. The man grabbed her bag and the phone, then pointed the gun at her head. She put out her hand as if to stop him, but he fired anyway, hitting her thumb and her cheek.
Vincent Newman, 24, was charged with the first crime. His older brother Joseph, age 25, was charged with the second one. The victims are both recovering.
5. Worst Caregiver: When Howard Spracher, who lived in the Greater Ville, died of cardiac arrest, he was also discovered to have cuts and abrasions and unhealed broken bones and was severely malnourished. His sole caretaker, Darlene Coulibaly, admitted to police that she had struck him with "hard objects"; they suspected she did way more than that and began investigating Spracher's death as a homicide.
One of the tortured dogs of Hamilton Heights.
4. Dog Killer: Back in May, five dead dogs were discovered in a Hamilton Heights apartment building. They had all been brutally tortured. Representatives from Stray Rescue said it was the worst case of animal abuse they had ever seen; the organization offered a $10,000 reward for any information about the dogs' killer. In October, Derick Stallworth was sentenced to four years in prison for animal abuse.
3.Death of a Homecoming Queen: Just a little more than a week after her eighteenth birthday last March, Sarah Billingsley-Walker was discovered strangled in her home in the Hyde Park neighborhood. Billingsley-Walker had been a star at Vashon High -- honor student, co-valedictorian, homecoming queen -- and had already been accepted at four colleges. Her ex-boyfriend, Leonard Johnson, was charged with her murder.
2. Pizza Delivery Murders: This year two pizza delivery drivers were murdered on the job and three more were brutally assaulted. The attacks happened in both the city and the county, north and south. County police decided to tackle the problem by having undercover cops pose as drivers. The city considered a similar solution, but decided the police force lacked the manpower. No one appears to have answered the question of why pizza delivery drivers are being targeted in the first place.
Rebecca Russell and John Thomas
1. Worst Babysitters: John Thomas III, 27, and Rebecca Russell, 30, were a couple living in the Tee Kay Mobile Home Manor near O'Fallon, Missouri. They'd often babysit their neighbors kids. Often their friend, Billy Joe Bunch Jr., 25, would come over while the kids were there. And then, according to police, the three would take turns sexually assaulting the children. The victims were all girls: a five-year-old, a three-year-old and a seventh-month-old. Yes: a seven-month-old baby. Russell and Bunch have already pleaded; Russell will serve ten years in the cooler, and Bunch will serve 15 years. Thomas is scheduled to be sentenced in February 2013.