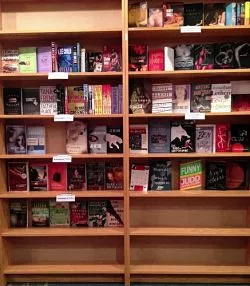 The fiction section of Pudd'nhead Books.
It's been an open secret for weeks now. All you have to do is look at the shelves, either empty or filled with books with their covers facing outward, to take up more space. It's a jarring site, especially at the height of the holiday shopping season when the shelves should be packed, with more piles on the floor. And it's a sure sign that a bookstore is on its way out.
But now it's official: After four years and two locations in Webster Groves, Pudd'nhead Books is closing shop. The going-out-of-business sale begins today and ends on December 30, when store will ring up its last sales. (The shelves and fixtures are also for sale.) The following day everything that didn't get sold will be cleared out.
"It's not a decision," says owner Nikki Furrer. "I'm out of money. It's boring to run out of money. I wish I had a better story. It doesn't have to close. If I could find a buyer or a financial backer, it would be like a Christmas miracle. But it can't be only me anymore when it comes to the checkbook."
Pudd'nhead is the second local indie to close this year, following Sue's News, which shut its doors in July.
Furrer opened Pudd'nhead in October, 2008, in Webster's Old Orchard Center, financed by a $120,000 bank loan and another $40,000 in personal savings, much of it earned during two long, boring years doing document review for a New York law firm.
"The root of the problem," Furrer says now, "is that I didn't start out with enough cash."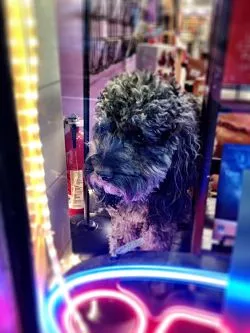 Henry (the second) on the job.
For the first two years, though, Pudd'nhead broke even. Although it remained the smallest of St. Louis's general-interest indie bookstores, it gained a reputation as the friendliest, with the most expansive children's section. (It was also Riverfront Times' Best Independent Bookstore in 2010 and 2012.)
Furrer and her small staff had seemingly read everything in the store and were able to offer personalized recommendations to customers, both the regulars and the walk-ins. When Henry, Furrer's dog and a regular store presence, died, there was an outpouring of mourning; one customer even gave Furrer a portrait he had painted of the deceased. (The dog has since been replaced by a young, energetic poodle-cocker spaniel mix, also named Henry.)
Two years in, Furrer was feeling optimistic. She decided to start hosting more events, which required ordering in large quantities of books -- which didn't always sell.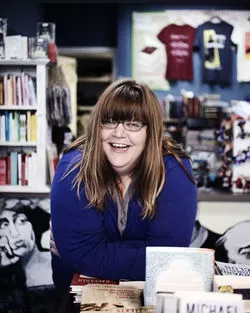 Jennifer Silverberg
Nikki Furrer
"We tried to do too much," Furrer says. "We tried to grow too fast." She took out another loan when the store moved in August of 2011 to a more conspicuous location on Big Bend Boulevard and cut back on events. The construction on the Murdoch Avenue bridge for most of 2012, though, cut off access to the stores on Big Bend, many of which, Furrer says, also lost business.
"We have loyal customers," she says, "but we don't have enough. Of all the neighborhoods in St. Louis, this was the best to [open up a bookstore] in -- but Webster rents are up there."
Furrer considered trying to raise money by hosting a trivia night or by starting up a Kickstarter campaign, but rejected both ideas almost immediately. "I don't want people buying books out of guilt. I didn't want to beg. This is just not sustainable. I'm not getting enough sales to cover the rent."
She realized in early September that she was going to have to close the store, but decided to wait until after the holidays. "We needed Christmas to mitigate the damages," she says. "November and December are the only time we make money. Considering how little inventory we have, sales have been good."
In January, Furrer plans to start hunting for a job. Henry will need to find employment as well. "We'll need to find him another store to hang out in," Furrer jokes.
The regular customers are sad. Some have come in especially to buy books before the store closes and place last-minute special orders. They've written sad notes and angry screeds on social media. They stand at the counter and tell Furrer how sorry they are and how much they'll miss having a bookstore nearby.
As for Furrer, "I was sad in September. I've had all five stages of grief mixed up. I'm still in denial, I'm still angry. I haven't reached acceptance yet, but I bargained like a lunatic.
"Would I open another bookstore? No. When I opened this one, I knew there was a 90 percent chance it wouldn't work. I have no idea why I went ahead with it. I guess I had to try it. I don't want to be the bitter, pissed-off, victim-y one. I flip back and forth between 'I can't believe I drove this into the ground' and 'I can't believe I kept this going so long.'"