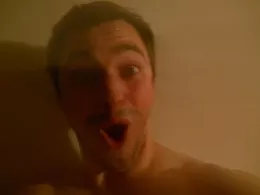 A photo from what appears to be Derek Ficik's Facebook page
So this is spooky -- and very sad.
The spooky part is this: Derek Ficik, a 26-year-old from Maryland Heights, has been charged with making a terrorist threat of a particular kind.
On Sunday, cops say, he called pastor Marc Simka of
Matthias' Lot Church
in St. Charles and -- over the course of three voice mails -- announced his intention to look the pastor in the eyes, tell him to pray to God, shoot him in the head, and then burn down his church at
2645 West Clay Boulevard
.
(Ficik had reportedly visited the church the previous week and left his phone number on an interest card, which matched the number that made the threatening calls.)
According to Casenet, Ficik lives at the 12164 Sagemeadow Lane in Maryland Heights, and was arrested on Tuesday.
Daily
RFT
's phone call to St. Charles City police has not been returned yet, but every news outlet in town has covered this story. Here's the
PD
with a
bit more
on the young man's interests:
Court records say that Ficik practices witchcraft and a type of out-of-body experience. While engaging in them, he said demons tell him what to do, and he must obey. He further told authorities that he was very dark, and evil fascinated him.

The probable cause statement says that Ficik wanted to burn all Christians and "fill the seas with Christian blood."
Which leads us to the sad part: KTVI Fox2
got a hold
of Ficik's mother. She says her son suffers from bipolar disorder and Asperger's syndrome. (How those relate to his professed interest in evil, if at all, I have no idea.)
In any case, he clearly knew he had psychic problems, because his mother says he even tried to check himself into a hospital once, but they turned him away. She told the news crew he ought to be in a group home with mental health services,
"where he's monitored with his meds every day. I'm busy with working and with my daughter, and I can't be there every--I'd like to be, but I can't."

(Let's all remember this story if the Missouri legislature debates mental health services funding in the wake of the Newtown massacre.)
Meanwhile, the pastor and flock in question are rattled. The pastor even checked into a hotel at one point to seek safety.
On what appears to be
Ficik's Facebook page
, it says he has worked as a busboy at Balducci's Winefest Restaurant and Bar and attended Parkway West High School.