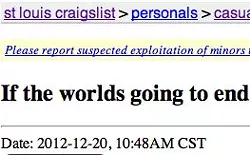 Time waits for no m or w or wm or t.
If you truly believed that the world was going to end tomorrow, what would you be doing? Making amends, fulfilling promises, enjoying the company of those dearest to you, perhaps?
Nonsense! You should be trying to have sex with strangers.
Daily RFT has got you covered. After the jump, we have links to five best Craigslist ads we could find for locals looking for love before tomorrow's scheduled apocalypse. Spoiler alert: They are all men.
Oh, and fair warning: Lots of these links will shoot you right over to a picture of a penis, so we'll stamp those "NSFW."
1. Mayan Threeway - m4mw - m4mw - 49 (STL) He is: A man You are: A hot heterosexual couple The gist: "Guys serve up your hot little lady as a sexual sacrifice and perhaps the Mayan Gods will grant us another day if our play satisfies them."
2. NSFW: Not the End of the world Just Yet - m4w - 22 (Saint Louis, South City) He is: A man You are: A woman The gist: "I don't think the worlds gonna end but just in case I dont wanna die a virgin."
3. End of the world fantasy - m4ww (saint peters) He is: A man You are: A set of hot twins, two sisters, or a mom and daughter. The gist: "The worlds suppose to end on the 21 lol, so i want to fufill a fantasy before we all die! Im open to race, size, age, and if your married or have a boyfriend i dont care. It would be hot to do like 2 sisters, twins, a mom and daughter but not a must have just, 2 willing sexy ladies!"
4. NSFW and headline heavily edited: Would You Care to Try Having Intercourse With Someone of African-American Dissent for the First Time Before the End of the World? He is: A man You are: A woman The gist: This is essentially the only clean sentence in the whole ad -- "So the world is 'supposed' to end 2morro. Which i don't believe. But what if it does end?"
5. NSFW: Seeking [An African-American Gentleman] for the End of the World - m4m - 26 (IL) He is: A man You are: A man The gist: "OK, so the 'end of the world' isn't technically until Friday. But today might be my last chance to get some nice big fat..."
We desperately wanted to find women for this list, but guess what -- the ones who believe in the apocaplypse have no interest in sex.