We admit it. Winter in St. Louis can be pretty damn dreary. Weeks can go by without a ray of sunlight penetrating the grey sky. And then there's the cold — a humid frigidity that drills right to the bones.

It's enough to bring on a deep depression if you cannot open your eyes to all the great things to do between now and the vernal equinox of March 21. Below are 20 reasons why we at Riverfront Times truly love winter in St. Louis. What — if anything — are we missing?

1. Watching bald eagles in Alton — Each year hundreds of bald eagles migrate from the north down to the Alton area along the Mississippi River. But where's the best spot to view these beautiful birds of prey? Never fear. There's an app for that.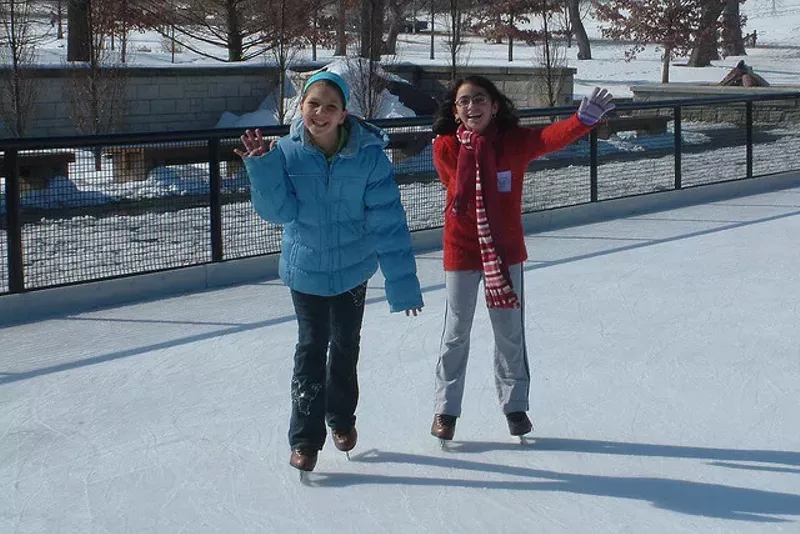 Photo courtesy of Flickr/John
2. Skating at Steinberg Rink - A winter attraction since the 1950s, Steinberg Rink offers ice skating as God and Mother Nature intended — outdoors! And did you know that Steinberg is open every day of the winter and said to be the largest outdoor rink in the Midwest? Night skating is best with breaks by the fire.
3. Cardinals Winter Warm-Up — The deals and trades of baseball's "Hot Stove League" can almost be as intriguing as the baseball season itself. But nothing celebrates the off-season quite like the Cardinals Winter Warm-Up — a chance for fans to meet the players and get autographs. And the best part of all, the entire event benefits charity.

4.
Witnessing St. Louis weathermen freak out over 1.5 inches of snow.
We really don't get that much snow in St. Louis. But when we do, it becomes a REALLY BIG DEAL with local weathermen (and weatherwomen). These ordinarily sane meteorologists absolutely lose their shit this time of year. Bear with them. They'll come to their senses just in time to lose it all again during tornado season in late spring.
5.Sitting around the outdoor fires at Sasha's on Shaw.
Several St. Louis bars and restaurants now offer campfires on their patios in the winter months. But if you've yet to find your favorite place to cozy up with a cocktail, you'd be hard pressed to beat Sasha's on Shaw
(4069 Shaw Blvd; 314-771-7274
), which usually has at least one outdoor fire going each night.
6.
Winter Wonderland at Tilles Park
— It's schmaltzy as hell and one great gigantic cluster#%@, but the acres and acres of lights that transform Tilles Park into
Winter Wonderland
is something every St. Louisan should
endure
experience at least once.
7. Sledding on Art Hill — Nothing is more quintessential of a St. Louis winter than climbing up Forest Park's Art Hill and pointing your toboggan toward the bottom. Just be sure to bail out of the sled before you reach the Grand Basin. That is, unless you're into the following...
8. Polar Bear Plunges — Nothing is quite as invigorating as jumping into an open body of water in February. Fortunately, there are at least two "polar bear plunges" in St. Louis (one at Lake Saint Louis, the other in Maryland Heights) that benefit Special Olympics. ('Cause, you know, you have to be a bit special to want to do this.)
9. Fish Fry Fridays — Head straight from Mardi Gras to the dozens of Catholic parishes around St. Louis that offer cheap eats, great community and cheap beer every Friday during Lent.
10. Global warming — Last winter was the sixth warmest on record in St. Louis and tied records for the fewest days (4) in which the temperature did not hit at least 32 degrees. Expect more of the same in coming winters. (The four warmest winters nationally have all come since 1991.) The good news, though, is that you can still dress in your stylish winter wardrobe in St. Louis, you just don't have to worry about freezing your ass off when doing so.
11. Fireplace at Babe's Tavern — We've already said how we love bars and restaurants that have outdoor fires in the winter. The same, though, is true for those with working indoor fireplaces. Babe's Tavern in south St. Louis (3215 Ivanhoe; 314-647-3436) is one such watering hole. So, too, is the bierskellar at Schneithorst's in Ladue (1600 South Lindbergh; 314-993-4100).
12. Schlafly Winter ESB — The brewmeisters at Schlafly serve up distinct beer to celebrate all seasons and holidays (Oktoberfest, Pumpkin Ale, Christmas Ale, Summer Lager, etc.), but our favorite may be the Winter ESB (a.k.a. Extra Special Bitter). The weather outside may be frightful, but this toasty, hoppy beer will having your insides feeling all warm and fuzzy.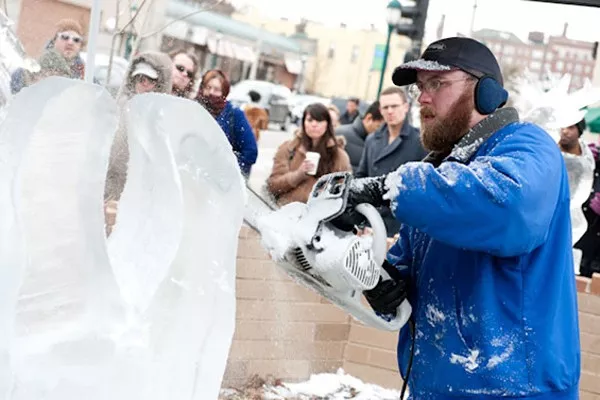 Photo by Jon Gitchoff
The Loop Ice Carnival. Fun!
13.
The Loop Ice Carnival
- You know what they say. Got lemons? Make lemonade. The same can be said with frozen precipitation. Got ice? Make ice sculptures! But that's not all you can expect at Ice Carnival in the
Delmar Loop
, which always tends to come during the coldest, bleakest days of winter. Enjoy s'mores, snowball fights and — our favorite — the human dog sled races.
14. The Climatron at Missouri Botanical Garden — Winter weather have you down? Take a short trip to south city. MoBOT's Climatron is a balmy and humid 85 degrees year-round. Walk among the waterfalls, palm trees and tropical plants, and it's like you're in the rainforests of Costa Rica — for one-thousandth the price.
15.
Winter hikes
— Here's a contrarian position: The best time to go for a hike in the Midwest is the winter, not the summer. You don't have to worry about mosquitoes and other bloodsuckers (we're looking at you, ticks), and the leafless trees provide hidden vistas you don't see in other seasons. Such is the case at
Cliff Cave Park
in south St. Louis County which affords stunning views of the Mississippi River this time of year.
16. Soulard Mardi Gras — Boobs! Beer! Beads! Tens of thousands of your St. Louis brethren! What's not to love about the nation's second-biggest Mardi Gras celebration?
17. Brunch among the paperwhites at Cafe Osage — Walk into Cafe Osage, the restaurant attached to Bowood Farms in the Central West End (4605 Olive Street; 314-454-6868) and the scent hits you like a perfumed-soaked boxing glove to the face. The smell of glorious paperwhites is so intoxicating, so heavenly, that you won't know which is better: the aroma of the flowers or your order of eggs, potatoes and sausage.
18. Hot chocolate at Kakao — Hot chocolate is a winter staple, but the sweet and divine syrup served up at Kakao (2301 S. Jefferson Avenue and 7272 Manchester) transforms the beverage into a treat like none other.
19. Saint Louis Symphony at Powell Hall — Everyone needs an elegant event to attend a few times a year. Thankfully, we have our world-renowned symphony and stately concert hall to scratch that itch. Gentleman, dust off your suit. Ladies, find your pearls and furs, and everyone make their way to Grand Center for one of the symphony's many Friday and Saturday night shows this winter.
20. Penguin Parade at the Saint Louis Zoo — Sundays at 2 p.m. during the winter the zoo opens up its penguin enclosures to allow its most dapperly dressed residents to march waddle along the pedestrian pathways.
Bonus: Awkward holiday greetings from television news stations