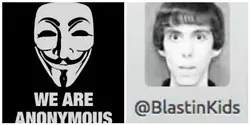 Good versus evil? Of course, it's never that easy.
Since the tragic shootings in Newtown, Connecticut, most of the country has responded with prayer, grief, and calls for dialogue on gun control and mental illness.
A small subset of the population, however, has used it as an excuse to become the world's worst people, starting Twitter accounts supposedly owned by Adam Lanza and posting all kinds of truly awful stuff to them. (Yeah, this is one of those posts. If you're valuing your faith in humanity today, may we advise bypassing this one?)
Web vigilantes like Anonymous have been using their hacking powers to try to expose who these idiots are in real life, but in the process, they ended up making a huge mistake and putting some innocent folks in St. Charles through a harrowing evening of threats. That includes a 77-year-old lady.
First of all, it gives us absolutely no pleasure to introduce you to the now defunct Twitter account "@blastinkids." (We told you this was going to be awful.) The avatar was the now famous black-and-white photo of Adam Lanza and the tweets were written in his imaginary voice. They are all completely awful and don't deserve to be quoted here. If you're dying of curiosity, knock yourself out.
@blastinkids is sadly just the most recent account of its kind. Yahoo lauded a hacker who goes by "The Jester" for warning Twitter's corporate offices about a similar account called "@z0mb13d" and then going on the offensive, figuring out who the owner of the account was and posting personal information about him. The Jester and Anonymous have also been hacking and releasing private data about the Westboro Baptist Church members, after they announced they were traveling to Newtown to picket funerals.
While it can be fun imagining some little weasel freaking out once his troll mask has been ripped off, that's only if the intel is good. In this case, it was very, very bad.
Sometime on Monday, the forces of vigilante web justice declared war on @blastinkids. It's not clear who exactly obtained the info, but by that evening a full profile of the user was available online. Anonymous minions and fans began spreading the information across the web. The person named was 32-year-old "Jacob Dean Douglas," supposedly a resident of O'Fallon. A profile on the website Pastebin provided a phone number, address, links to all his social media accounts (including another gem, the incredibly racist @RabbiJewey), and the name, address, and phone number for his job.
The attack successfully did one thing -- all the social media accounts including @blastinkids and @RabbiJewey have gone dark. Unfortunately, it appears the rest of the information was wrong. According to the Post-Dispatch, some poor 77-year-old lady in St. Charles County was on the other end of the phone number listed online, and from 5:30 to 11:30 p.m. she received 500 angry calls and death threats. She called the cops.
The P-D also reports police checked out the O'Fallon address where @blastinkids supposedly lives and found no "Jacob Dean Douglas" there either (no one had bothered the people living there, however).
Daily RFT contacted the alleged workplace -- a St. Charles office that turned out to be a call center for a company called Financial Asset Management Systems. The receptionist referred our inquiry to its corporate headquarters in Atlanta and within minutes, Jerry Hogan, the CEO of FAMS, called us back.
Hogan confirmed that at 8:45 p.m. on Monday emails and messages started pouring in, demanding to know what they intended to do with "Douglas," and threatening to disrupt FAMS's phone lines and crash their computer systems. Hogan says he immediately contacted the St. Charles office to find out if any of their 150 employees matched the name.
"We had no one employed with us by that name," he says. "I was so concerned that we didn't have someone working for us who would do something like that, I personally began responding to the [messages] to assure anybody that emailed us that we did not have that individual."
That appears to have thwarted any cyberattacks -- he says almost everyone emailed back to thank him, save one belligerent person at 3 a.m. who insisted Hogan was lying.
In the morning, Hogan says his employees combed old personnel records and were able to find one person whose name almost-but-not-quite fit the spelling provided by the hackers, and who was employed with FAMS for six months, four years ago. He says the commotion has died down now and he's decided not to involve the police.
"We have a morality clause," he says. "No one could work for our organization that would make those kind of statements on Twitter."
Many of the links to the original posting of @blastinkids's information are now dead, suggesting that some people realized they'd made an error and took it down. Unfortunately, traces remain. Guess there's a reason it's called "hacking" and not "scalpel-ing."