Old time Missourah or visions of Castle Doctrine law in the present?
Nothing wrong with a night of bullets and booze... at least in Missouri.
In the wake of last week's school shooting in Newtown, Conn., St. Louis County Police Colonel Tim Fitch has said he'd like to see school officials and teachers carry concealed weapons to prevent such tragedies . Such a move would require Missouri to violate the federal Gun-Free School Zones Act, which criminalizes the carrying of firearms in specified school zones (Kansas did just that in 2010). Now, there are plenty of people out there who believe more guns is a perfectly commonsense solution to gun violence. But there are also plenty of people who think gestures like that are batsh*t insane.
It's worth noting though that Missouri has some of the laxest gun control laws in the country. The Law Center to Prevent Gun Violence, a pro-gun control think tank, gave Missouri a big fat F for guns laws in their 2012 annual review of gun violence across the United States.
As Missouri continues to make it easier for people to obtain, exchange, and carry firearms, we took a look at some of the most striking statutes in Missouri state law.
1. Don't forget your gun when you go out drinking.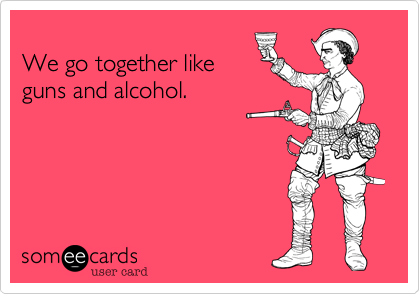 Valentine's Day at the shooting range?
Law-abiding citizens can carry a gun while intoxicated and even fire it if "acting in self-defense" (see Law #4 for Missouri's generous interpretation of self-defense). Double shots all around! 2. Cities and municipalities may not enact their own local protections against firearms.
The Missouri State House.
Want to live in a city that sticks to federal gun laws (which are slightly stricter than the states)? How about forming a gun-free fiefdom utopia in Webster Groves? Well you can't. Take your granola to one of the coasts, because Missouri has a preemption law that prohibits municipalities and counties from enacting gun laws that are more restrictive than state law. We also have a range protection law that makes it impossible for a local government to outlaw shooting ranges.
In 2009, 822 people died from firearm-related injuries in Missouri, making us 13th among the 50 states in number of gun deaths per capita. Missouri had the highest rate of black homicide victimization in any state in both 2008 and 2009, according to an analysis performed by the Violence Policy Center.
Still, our preemption law declares that "the lawful design, marketing, manufacture, distribution, or sale of firearms or ammunition to the public is not an abnormally dangerous activity and does not constitute a public or private nuisance." 3. No permits and only light background checks for same-day gun.
The wikiHow article "how to buy a gun in Missouri" nonchalantly gives any internet user five freakishly easy ways to obtain a firearm in this state.
How did Missouri'swould-be mass murderer Blaec Lammers get two assault rifles and 400 rounds of ammunition last month (despite a long history of mental health issues and a 2009 incident in which he tried to stab someone)? He went to a store, paid for his firearms, and walked out the door a few minutes later.
There is no waiting period for purchasing firearms in Missouri, and in Lammers' case, a 2009 involuntary psychiatric commitment was not reported to the feds (because that's just the way Missouri does things and thus did not come up in a standard federal background check).
Had Lammers gone to a gun show, pawn shop, or perfectly legal but otherwise unlicensed retailer, he wouldn't have had to undergo any background check at all to purchase a firearm. 4. Shoot first, ask questions later.
An image posted to Bull's Eye shooting range's Facebook page (the only indoor shooting range in St. Louis City) on December 11. The caption read "Anyone else have a problem with this guy breaking into their house?"
After the shooting of Trayvon Martin last spring, and its justification under Florida's "stand-your-ground" law, legislation that protects shooters acting in self-defense has come under increased scrutiny. Florida was the first state to adopt a "stand-your-ground" law or "Castle doctrine" (as in "your home is your...") in 2005, and Missouri followed two years after.
Before Castle doctrine laws went into effect, people who were being attacked or robbed were legally mandated to retreat, if possible. But the laws allow a property owner to use deadly force against an intruder or assailant if they believe their life is in danger, without fear that it may result in a civil or criminal suit. When someone is confronted with "unlawful force" (which is undefined in Missouri law), they may respond with "lethal force".
Earlier this year the Post-Dispatch reported seven fatal shootings in 2011 in St. Louis that were protected under Castle doctrine. It doesn't seem to matter that in several of the cases, no one's life was actually in danger.
Missouri's law also gives absolute immunity from civil suits to anyone using a firearm in real or perceived self-defense; it includes the award of attorney's fees, court costs, and all reasonable expenses incurred by a defendant in defense of any civil action brought by a plaintiff.
This isn't the wild, wild west but when you can pull a gun and shoot on someone who don't look right, it sure starts to feel like it is. 5. Okay to bring guns to crowded "public assemblages".
In 1874 the Missouri legislature began to outlaw the carry of weapons in a "public assemblage", but in true legislative fashion, it never bothered to define the term. Enforcement was loose, but the law stood until 2003.
Nine years ago our state legislature abolished the offense entirely, so bringing a gun to church, a sporting event, a farmers market, or fairground is up to the property owner themselves. The Second Amendment has really blossomed in 150 years.
6. Bonus: The Daily Show chronicles Missouri legislators' fight to protect gun owners from discrimination.