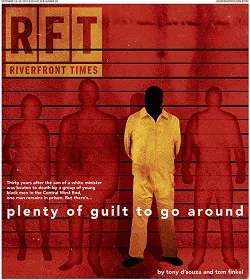 Contrary to conventional wisdom, someone out there still cares about long-form journalism.
Who?
The people who curate
longform.org
, that's who. It's a site dedicated to highlighting the best non-fiction published online. Yesterday longform.org featured this week's
RFT
cover story,
"Plenty of Guilt to Go Around."
For those who've yet to read Tony D'Souza and Tom Finkel's article, it tells of a 1982 assault in the Central West End that resulted in the death of a white minister's son and a life sentence in prison for one of the black assailants involved.
But more than that, it's a St. Louis tale -- about race and class and justice -- that uncovers hitherto-unrevealed details regarding the circumstances leading up to Todd Weems' murder. Could that evidence have had an impact on the conviction and sentencing of Eric Clemmons, who remains in prison 30 years after the crime?
And, as long as we are asking questions, will the one man who can weigh in on that matter -- Governor Jay Nixon -- read this week's
RFT
?