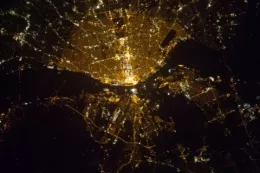 So check out these shots we've posted after the jump.
According to the
gentleman who posted them up on TwitPic
, they were taken by Russian astronaut
Yuri Malenchenko
.
Malenchenko was part of the six-member crew of
Expedition 32
that went up to the International Space Station from July until September.
The night-time one is the best.
You'll sometimes hear about St. Louis' "central corridor" stretching between downtown and Forest Park, but here's an opportunity to really see it clearly. It's that bright vertical band of light (the bottom of the frame is Metro East, the top is the beginning of St. Louis County):
Here's the day-time one (Not quite as impressive):
The Gateway City as seen from outer space (in the daytime)
By the way, there are
a lot of other cool shots
that Malenchenko took from space. Like this one which is supposedly Mt. Everest: