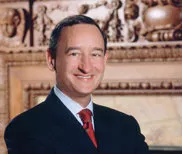 WUSTL
Chancellor Mark Wrighton
A new survey of private college president's pay by the Chronicle of Higher Education ranked Washington University's Mark Wrighton fourth highest-paid in the country.
In 2010, the most recent year for which federal tax records were available, Wrighton took home $2,268,837. Since many recent Wash U graduates would also very much like $2.2 million but are instead mired in student debt, this figure may make them angry.
But wait! There is a totally good explanation for this. Well, so long as you accept the premise that retaining a top-notch president means a top-dollar contract, blah, blah, blah, capitalism and so on.
The president of the New School topped out the rankings with a $3 million compensation package, and Wrighton was not far behind the administrators in places two and three.
But according to Wash U spokesman Steve Givens, 2010-2011 was an "unusual" year for the chancellor. That's because he finally got to cash in on his "deferred compensation" also known as the "golden handcuffs." According to CHE, institutions incentivize university presidents to stay for the entire length of their contract by putting aside thousands of dollars each year, tax free. If the president bails before the contract is up, they forfeit the money.
Wrighton has dutifully hung in there for 16 years and so was awarded over $1 million in 2010. Here's Givens's breakdown of the numbers:
Washington University annually reports compensation for officers, directors, trustees, key employees and select others on IRS Form 990. The most recent Form 990, covering the time period from July 2010 through June 2011, reported unusually high compensation for Mark Wrighton compared to his previous 16 years as chancellor. This is because it includes a unique, and required, one-time deferred compensation distribution totaling $1,142,223.09. Nearly all of that distribution ($1,138,000) was earned in prior years and reported on prior Form 990s as deferred compensation. That fact is stated clearly on the 2010/2011 filing.

The survey released by the Chronicle for Higher Education lists Chancellor Wrighton's compensation as inclusive of this one-time distribution. A more accurate accounting of the chancellor's compensation is as follows:

$761,732 base compensation
$0 incentive and bonus compensation
$1,130,837 total compensation (including base, taxable benefits and other non-taxable benefits, such as retirement and deferred compensation)
So without the one-time payout, Wrighton would have been paid a meager six-figure pittance, ranking him somewhere in the seventies on the list.
That still dramatically outpaces his fellow Missouri college presidents -- the next runner-up in the state is Elizabeth Stroble at Webster University, who ranked 182nd. Check out all the state institutions that made the list here.