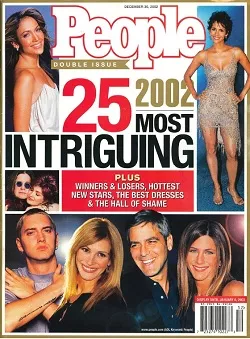 Ten year's ago this month David Clohessy, director of the Survivors Network of those Abused by Priests (SNAP), was named one of the world's "25 Most Intriguing" by People magazine.
Included in that 2002 class were actors and performers such as George Clooney and Britney Spears, world leaders the likes of Saddam Hussein and Jimmy Carter, athletes Serena Williams and Pat Tillman (the football player who'd recently left the NFL to serve in the Army but had yet to die of friendly fire) and a few Regular Joes such as Clohessy.
Last week Daily RFT caught up with Clohessy, to discuss what the People magazine designation meant at the time, what SNAP has accomplished since then, and what challenges still lie ahead for the St. Louis-based organization that continues to garner international headlines for exposing child sex abuse.
Daily RFT: SNAP has been around since 1988. But what changed in 2002 that even a celebrity magazine such as People had to write about you? David Clohessy: 2002 was a crazy, crazy year. The Boston Globe had done this huge investigative series -- literally hundreds of stories -- about child sex abuse within the Catholic Church. And all of the sudden the topic became the burning, Page One story in newspaper after newspaper after newspaper all across the county. And that is only reason why someone from SNAP was in People magazine.
It was an amazing time for us. We went from a situation where we -- SNAP -- would not get our phone calls returned to where we couldn't possibly return all the calls we were getting. There would be nights that I'd clear my cell phone voice mail before going to bed, and I'd wake up the next morning and my voicemail would be so full again it wouldn't take any more messages.
How exactly did the People profile come about?
They contacted me and said they want to do a story about me and my work and it will run toward the end of the year. They certainly didn't say you've been chosen as one of our 25 most-intriguing people. Crazy thing was I was in an airport in Salt Lake City or Las Vegas -- I forget which -- headed out to Idaho to see my in-laws for Christmas. I'm standing in line at an airport store buying a bottle of water when I saw the cover of People and I thought to myself, "Oh man, they didn't put me in that list, did they?" I opened the cover and doubled over with laughter.
People's mini-profile of Clohessy in December 2002 that recounted his own abuse at the hands of a priest.
People didn't award you with a plaque or host a party for you and all the other intriguing folks?
Nope. I invited all my fellow list-makers to a party at my house, but they didn't show up. Just kidding. A reporter, David Gibson, at the Newark Star Ledger, wrote an article about SNAP being included in the list. I joked that the magazine asked Britney Spears to expose her midriff and didn't even ask to see mine! Did the article do anything for you or SNAP?
There was definitely an uptick of interest in SNAP after that article. People magazine sits in a lot of doctors offices and beauty parlors. One of the things that is so amazing about this work is that almost any publicity is helpful. Though the best publicity comes from Oprah. We've been on her show three times. The phones go crazy. Ten years later, what would say SNAP's biggest accomplishment has been?
Anecdotally, I feel comfortable saying that these days kids are a little more apt to tell and parents more inclined to believe and families more willing to call police and police more serious about investigating and prosecutors more determined to prosecute and employers more vigorous in doing background checks. And all that is good. But none of that is due to the behavior of church officials. Sadly, it's very clear that many institutions (and not just the Catholic Church -- organizations such as Penn State and the Boy Scouts) continue to ignore and conceal child sex suspicions and even proven cases. And that is so tragic and depressing.
Staying relevant for any amount of time is difficult. Do you hear people today who say that the sex-abuse scandal inside the Catholic Church is over? Or that they're bored with it?
Yes, but the cover-up scandal continues in the church. Last month the archbishop of Miami removed a priest from ministry after the fourth -- the fourth! -- civil lawsuit against him. And two of those cases had already been settled. And yet they kept him in ministry. And in 2010 it took three allegations for the the bishop in Kansas City to remove a priest. This year, for the first time, a high-ranking church official was officially convicted of concealing child sex crimes in Philadelphia and the bishop in Kansas City was convicted.
Unfortunately, when caught doing wrong you have two choices: You can either stop or redouble your efforts to hide what your wrongdoing and many many bishops have chosen the latter. But if you think about it, there's a lot that contributes to that. First, the number of Catholics in the U.S. is growing thanks to immigration. Second, seminary enrollment is shrinking. Third, priests are aging. And fourth, over the last decade several thousand priests have been ousted due to abuse. So if you look at those four facts, the pressure for bishops to keep priests is more intense than ever. And then there is one more important fact to remember. Over the last decade just one -- one Catholic bishop -- has resigned because of the abuse crisis. For bishops, it's like no matter what they do, their job is safe. It's not going to hurt their career. Maybe you get some nasty headlines and maybe a civil lawsuit. But that's it. As long as the men at the top remain unscathed and continue to rise through the ranks, this is going to be an issue.
Though today SNAP is about more than just the Catholic Church, correct? Yes. We always have. We never turn anyone away. And increasingly we've heard from people in all kinds of organizations, and we try to do what we can to help them. From day one, frankly, the name SNAP has been a misnomer and a liability, almost. We get calls from people who say they've been abused by a nun, or a Protestant reverend, or a principal. And we help them.
And yet you still do this with a staff of just three people?
We do. A staff of three professionals, and two clerical people. But luckily we have this tremendous base of volunteer leaders all across the country. Some of them have been with us for decades. And they're incredibly compassionate, generous people. But we make it clear. We're not professional counselors. This is peer to peer.
So have you gotten any mysterious calls from People this year, saying that you'll be in an issue at the end of the year? No. Not yet anyhow. Clearly in 2002 they felt compelled by the magnitude of the crisis to include someone involved in the Catholic child abuse scandal.
== Below is the list of "intriguing" folks who appeared alongside Clohessy in the December 30, 2002, issue of People.
President George Bush, The Osbournes (Ozzie, et al.), Halle Berry, Eminem, Martha Stewart, George Clooney, Nia Vardalos (My Big Fat Greek Wedding), Paul Burrell (Princess Diana's former butler acquitted of stealing from her), Saddam Hussein (prior to invasion and still alive), Jennifer Aniston (still married to Brad Pitt), Pat Tillman (NFL safety who joined Army later killed in friendly fire), Britney Spears, Rosie O'Donnell, Winona Ryder (celebrity shoplifter), Jimmy Carter, Julia Roberts, Charles Moose (police chief chasing freeway shooters John Allen Muhammad and John Lee Malvo), Serena Williams, Christopher Reeve, Phil McGraw (Dr. Phil), Chelsea Clinton, Jennifer Lopez, Alice Sebold (author of The Lovely Bones), David Clohessy, Sarah Jessica Parker.