A personal favorite: images of urban swings in Sweden, that have inspired a similar proposal for St. Louis.
Think St. Louis could use a microbrewery trolley system? How about a set of City Museum-like playgrounds for adults? Or is it time to give street artists free reign? Some people out there think so.
Voting began this week for Rally Saint Louis, a crowd-sourced and publicly-funded ideas competition to make this city warmer and fuzzier for all.
We told you last month about their kick-off event at Plush and the many accolades the project has gotten from big wigs like Mayor Francis Slay, the Danforth family, the New York Times, and most anyone in the city who's ever used Adobe Creative Suite.
Rally Saint Louis put out an open call for ideas that might make the city better (or just look better) and received about 150 proposals for projects--from the silly to the sensible, the awesome to the already-been-done, and everything in between.
Their website interface (where you can vote with a name and an email) is sleek enough, but with 150-odd ideas, it can be difficult to take 'em all in. The Rally Saint Louis deities have highlighted some as "featured ideas" but here are a few that stood out to this blogger:
--Lighten Up St. Louis: No offensive jokes here, just a commonsense proposal to augment the city's street lamps with lights that would illuminate walkways for pedestrians. It would make neighborhoods safer and more walkable. Why hasn't the city done this yet, again?
--Light Up Other Stuff: Two people suggested the city project multimedia images onto the monumental Sarah Ave. grain silos. Another proposal details plans for lighting up the roof of Union Station.
--St. Louis Swings: Hang a bunch of swings all around the city. Simple, cheap, zany, and totally awesome.
--Painted Hydrants and Stoplight Boxes: Inject a little whimsy into the mundane markers of urban life by allowing local artists to adopt hydrants and stoplight boxes. Could it become the next CowParade?
--Rooftop Organic Gardens aka "FOOD Roof": This proposal combines two things yuppies love: rooftop dining and locally-grown organic veggies. It even includes fancy Sims-like renderings.
--Pop-Up City STL: Allow local artists to convert vacant storefronts into temporary art installations, could-be shops, performance space, or whatever. It's an intriguing idea with so much potential in a city still reeling from 60-year old vacancies; why hasn't it been done already? Along the same vein, "the Wilt/Boom Initiative", a new organization interested in transforming vacant buildings into community farms and public spaces, also submitted an interesting proposal for funding.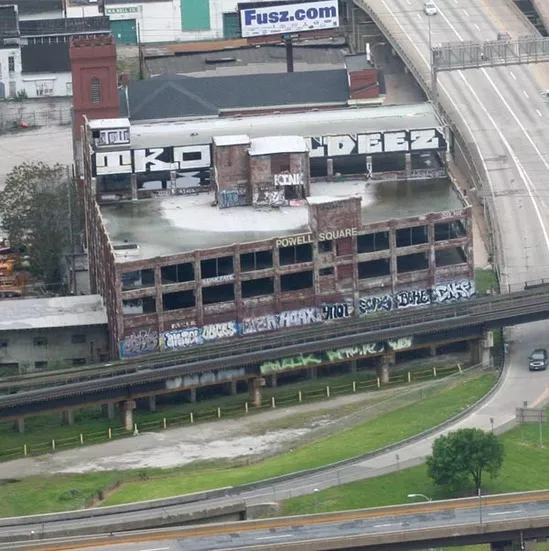 Image via Built St. Louis
The Wilt/Boom Initiative wants funding to transform the long-vacant Powell Square building downtown into a vertical community garden.
--Rebuild St. Louis World's Fair: Cuz hey, why not, right? World Expos are convened sporadically in pretty much any city willing to hold one (Astana, Kazakhstan will host an international expo in 2017). The last one in the U.S. was held in New Orleans in 1984. Maybe our great, great grandchildren will sit (levitate?) around talking (texting?) about the good old days of summer 2020, when St. Louis hosted the world's fair via satellite hook-up and the weather was still a blissful 115 degrees.
--Hold a contest to write a romantic song about St. Louis: Why not issue a re-release of this 1987 gem. FredBird on sax should be all the romance we need in this city.