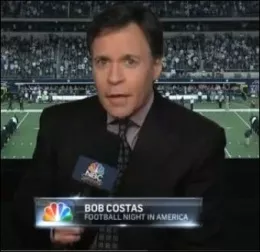 Bob Costas weighing in on Jovan Belcher suicide-murder
In case you went totally off-the-grid over the weekend: Kansas City Chiefs linebacker Jovan Belcher
killed his girlfriend and then himself
with a handgun on Saturday.
Many outlets have
suggested
that Belcher's football-related brain injuries were to blame.
St. Louis native Bob Costas, on the other hand, took a moment during half-time in NBC's Sunday Night Football to point the finger elsewhere: American "gun culture."
Costas directly quoted a
column
that Fox Sports
columnist
Jason Whitlock
published just hours after the killings, adopting the position as his own:
Our current gun culture simply ensures that more and more domestic disputes will end in the ultimate tragedy, and that more convenience-store confrontations over loud music coming from a car will leave more teenage boys bloodied and dead.

In the coming days, Belcher's actions will be analyzed through the lens of concussions and head injuries. Who knows? Maybe brain damage triggered his violent overreaction to a fight with his girlfriend. What I believe is, if he didn't possess/own a gun, he and Kasandra Perkins would both be alive today.

The comments against Costas for airing this political argument during a football game
started to fly
immediately.
Daily
RFT
would say this: Costas and Whitlock may or may not be right to condemn American gun culture, in general. That's an incredibly complex and contested issue.
But their claim that Belcher and his wife would still be alive if only he hadn't had access to a gun is flimsy, for the simple reason that there are tons of ways to commit deadly violence.
Only one day before the Belcher killings, a deranged young man in Casper, Wyoming
stabbed
his father, his father's girlfriend and himself to death. In those attacks, he used large knives and a compound bow-and-arrow - not firearms.
Gun control wouldn't have stopped that guy. Perhaps it wouldn't have stopped Belcher either. It's impossible to know.
That's our point. Reports are starting to trickle in that Belcher and his girlfriend had a
"strained" relationship
, and that he
didn't have
an exceptional history of concussions. But until we know more, we're not quite ready to blame the gun itself.