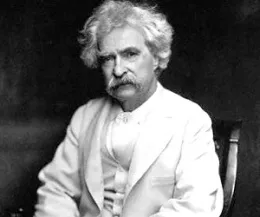 Mark Twain insulted everybody. He was incredible.
The great Missouri sage Mark Twain went after everybody: Congress, the French, Christians, school boards, mankind, the French.
(He liked insulting the French).
In honor of his 177th birthday today, we give you six of our very favorite Mark Twain disses.
Classic Twain Insult #6
"The average American may not know who his grandfather was. But the American was, however, one degree better off than the average Frenchman who, as a rule, was in considerable doubt as to who his father was."

Classic Twain Insult #5
"In the first place, God made idiots. That was for practice. Then he made school boards."

Classic Twain Insult #4
"Suppose you were an idiot, and suppose you were a member of Congress; but I repeat myself."

Classic Twain Insult #3
"There has been only one Christian. They caught him and crucified him-early."

Classic Twain Insult #2
"To create man was a fine and original idea; but to add the sheep was a tautology."

Classic Twain Insult #1
"France has neither winter nor summer nor morals. Apart from these drawbacks it is a fine country."