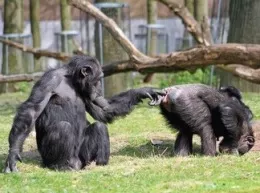 Image via
Allegedly, it went something like this...
Yesterday, Creve Coeur Patch
reported
a few scintillating details from a public hearing on the sexual misconduct charges leveled at Jerry Berger, the former
Post-Dispatch
columnist.
(And just like Patch, we'll now issue a warning:
The following blog post includes adult content and very bad puns
.)
This whole case started after a man alleged to police that Berger got a bit too grabby while waiting in a checkout line inside a business in the 11600 block of Olive Boulevard. Now we know exactly what the allegation is.
Quoth Patch: "Creve Coeur Police said in a report that on Feb. 22, Berger grabbed another man's testicles and poked a finger in his anus."
Oh Golly!
Related content:
- Jerry Berger Banned from Post-Dispatch for "Inappropriate Behavior"
- Gossip Columnist Jerry Berger Returning Online
According to Google Maps, one of the few businesses in the 11600 block of Olive is Veninga Jewelry. Oh, how we wish that the alleged assault occurred there! The headline for
that
story? "Columnist Fingers Man in Veninga, Anus"
Alas, we haven't yet confirmed it, and Jerry has chosen to keep mum until the case is resolved.
But then Daily
RFT
got to thinking: What do you call the sex act of grabbing balls and inserting a digit in the checkout lane?
On the following page are 10 ideas we had. Insert your own in the comments section!
1) The More-Berger-Than-Buns
2) The One-Fingered Discount
3) The Nutgrasper
4) Burying the Lede
5) The Probing Sit-Down Interview
6) The Five-Star Lift
7) Above (and Between) the Fold
8) Start the Presses!
9) Proofing the Body Copy
10) The Columnist's Allotted Inches