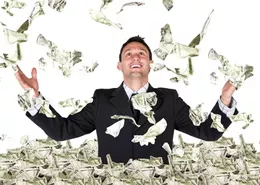 [Updated 12:08 pm: The ticket was sold in a Trex Mart in Dearborn, Mo., according to Lotto officials]
Someone in Missouri may have woken up this morning $580 million buckaroos richer.
That's right: the golden ticket for this week's record Powerball jackpot was purchased in the Show-Me-State, according to lottery officials earlier today . Check your tickets, folks: 5-16-22-23-29 and the Powerball of 6.
A second ticket was purchased in Arizona (so if both winners come forward, they'll go halfzies).
The mega-lottery prize climbed to $580 million by the time of Wednesday night's drawing, making the cash option $379.8 million. The Powerball deities raised the prize from $500 million, already the highest in Powerball history, in response to record ticket sales.
To our big winner in Missouri: Congrats! And don't forget your friendly neighborhood alt-weekly after you buy yourself a swimming pool of diamonds.