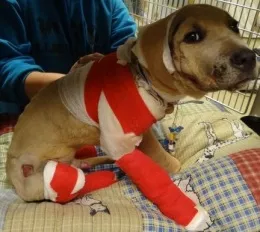 Trooper was accidentally drug along I-55 by a truck.
His rescuers have named him, "Trooper." And he's certainly acting like one, given what he went through on Wednesday.
On the morning of November 21, the Humane Society responded to a call for a severely injured animal off Interstate 55. The investigator arrived on the scene and found Trooper -- a five-month old pit bull -- who "was in shock suffering from severe and traumatic injuries including exposed tissue and shoulder bone."
Turns out he had been dragged for a mile on I-55 by a truck. The driver of the truck was on the scene and "distraught," saying that he had no idea whose dog this was and how it had become tethered to his vehicle.
He'd only found out because another driver had flagged him down and called the cops, so he pulled over to see what was up. That's when he found Trooper.
The Humane Society says it's investigating several leads already, and is offering a $2500 reward for info on this incident.
As for Trooper, he immediately went into intensive care for five days, and now, his veterinarian is "cautiously optimistic" about his recovery.
They don't know who owns him. He was found wearing a collar and leash, but had no tag or microchip.
In Daily
RFT
's opinion, this sounds like a horrible accident. There are much easier and more discreet ways of getting rid of an unwanted dog. Plus this was a
puppy
; you have to be a pretty cold sociopath to want puppies to suffer.