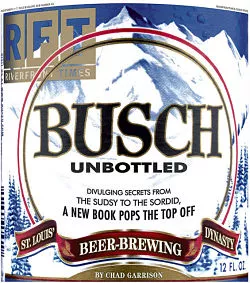 Here's your weekly St. Louis bestseller list for the week ending November 11, as compiled by the St. Louis Independent Booksellers Alliance and based on sales at Left Bank Books, Main Street Books, Pudd'nhead Books and Subterranean Books.
Can it be that some of you -- make that many of you -- read Chad Garrison's interview with William Knoedelseder, author of Bitter Brew: The Rise and Fall of Anheuser-Busch and America's Kings of Beer, and ran out to buy the book, making it this week's number-one bestseller? Wait, don't tell us. We like to think that Riverfront Times has some influence over your book-buying decisions.
Also on the bestseller list: I Could Pee on This: And Other Poems by Cats (for the third straight week?!?); One Last Strike by Tony La Russa (for the third straight week); Hallucinations, which is proof that you can get totally baked on Sunday mornings and still end up like Oliver Sacks; and Ride On!, St. Louisan Stephanie Saulet's memoir of faith lost and recovered during her cyclist husband's battle with cancer.
On the kids' side: Were you aware Christmas is coming? You are now.
Adult Bestsellers:
1. Bitter Brew: The Rise and Fall of Anheuser-Busch and America's Kings of Beer by William Knoedelseder 2. Cloud Atlas by David Mitchell 3. This Is How You Lose Her by Junot Diaz 4. One Last Strike: Fifty Years in Baseball, Ten and a Half Games Back, and One Final Championship Season by Tony La Russa 5. Gone Girl by Gillian Flynn 6. Ride On! by Stephanie Saulet 7. Where'd You Go, Bernadette by Maria Semple 8. I Could Pee on This: And Other Poems by Cats by Francesco Marciuliano 9. The Swerve: How the World Became Modern by Stephen Greenblatt 10. Hallucinations by Oliver Sacks
Children's/YA Bestsellers:
1. Because of Mr. Terupt by Rob Buyea 2. Count To Sleep St. Louis by Adam Gamble and Joe Veno 3. Second Chance (The Slayer Chronicles) by Heather Brewer 4. My Santa Claus by Lily Karr and Jay Johnson 5. My Side of the Mountain by Jean Craighead George 6. Christmas Wombat by Jackie French and Bruce Whatley 7. Passenger by Andrew Smith 8. Abduction! by Peg Kehret 9. Snow by Uri Shulevitz 10. Mr. Terupt Falls Again by Rob Buyea