Editor's note: Last week St. Louis Circuit Attorney Jennifer Joyce joined other community leaders in sleeping outside to raise awareness for teen homelessness. Riverfront Times asked Joyce to chronicle her experience that night. This is her story, in her words.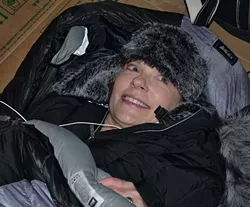 St. Louis Circuit Attorney Jennifer Joyce keeps warm in her "Elmer Fudd" hat.
It was a 90-degree day two months ago when Covenant House of Missouri invited my husband, Kevin, and me to sleep outside on November 15 to raise awareness for teen homelessness. In considering the strange request, I reviewed a YouTube video documenting last year's CEO Sleep Out in the Big Apple.
To me, the most striking part of that clip was not the Wall Street executives and city leaders who volunteered to sleep outside on the streets of New York. It was the shocked and surprised reaction of the teenagers who were so visibly moved that these CEOs thought about them at all, let alone were willing to sleep outside on their behalf. After watching the video once, Kevin and I were in.
Although they are largely invisible to society in general, homeless teens are inescapable to those of us who work in the criminal justice system. Too many families have profoundly neglected and abused children. Every day these kids end up as crime victims and even as criminals themselves. As a prosecutor, I'm often put into contact with these teens after something bad has happened, so I was eager to have an opportunity to work on the proactive side of this problem.
Here, then, is my diary from this past Thursday -- the night I experienced firsthand some of the obstacles they face each and every day.
The parking lot fills with sleeping bags November 15 at Covenant House.
4:00 p.m. Preparation. I'm getting my things organized to bring along tonight. As I sort through various clothing and sleeping bag options in our camping gear, I'm struck by the irony of having trouble deciding which of my many possessions I want to take along.
5:30 p.m. Anticipation. Kevin and I eat a quick dinner at our kitchen table. We are both quiet. We are anxious about how the evening will go.
7:00 p.m. Arrival. We've arrived at the corner of North Kingshighway and Maffitt Aveue where we will be spending the night in the parking lot of Covenant House. I'm thinking about cases I've prosecuted with crime scenes nearby. The Covenant House staff warmly welcomes us.
7:15 p.m. The evening begins. Lori, my team leader for the evening, greets me. I learn we will be in small groups for a tour of the facility and a roundtable with youth in residence. Kevin and I stash our gear in our designated area and go out to mingle with the other "sleepers," as we are referred to during the event.
7:30 p.m. Presentation time. I learn that we are one of 450 executives across the U.S. and Canada who are sleeping out tonight to raise awareness and money for Covenant House. I silently thank God that we are not in Canada. I learn that there are more than 2,500 homeless kids in the St. Louis region -- more than I thought. Each is an individual, but all have one shared characteristic in their backgrounds: a fractured, dysfunctional family. Turns out, most homeless teens elect to live on the streets because it is better than the abuse they suffer at home.
8:20 p.m. Facility tour. The first stop for our small group is the medical services area. I'm sad to hear about the cases of medical neglect that Covenant House sees routinely. It's also a concern -- though not surprising -- to hear about the mental health challenges these kids face.
8:30 p.m. Basic needs. The Crisis Living floor of CHMO is where kids are brought in directly from the street and can stay for up to 45 days while more permanent housing is sought. They get food, a shower, a warm bed, and a caseworker to help them devise a plan to find stable housing. There are a couple of girl residents in the vicinity. We say hello, but they seem very shy.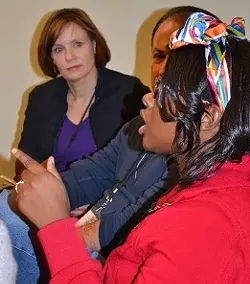 A Covenant teen tells her story.
9:00 p.m. The road to independence. Next up on the tour is the Transitional Living area, where teens can live for up to two years. We meet a woman who I'll refer to as the "den mother." Her job is to teach the teens life skills so that they know how to take care of themselves. It's not uncommon for these kids to have no idea how to keep house, do laundry, grocery shop, cook, etc. They've had no one to model these basic skills for them. I asked the den mother whether she gets any push-back from the kids when she makes them plan meals, clean the bathroom, do laundry, save money, etc. She laughed and said "Honey, these are teenagers. Do I get push-back? All day, every day! But they leave here knowing how to make it in the world."
9:30 p.m. Roundtable with two resident teens. I'm so impressed with both of these kids. Hearing their stories breaks my heart. It also inspires me. The girl, 16 years old, talks excitedly and nonstop. She rattles off the dates of six different foster-home stays and gives some cursory details about an unstable mother and her string of abusive boyfriends. She will be taking her GED in the next few days. I should call her to and see how it went. The young man is 18 years old and a senior in high school. He doesn't give many details as to how he came to be homeless, except to say that his mother couldn't care for him. He does not speak to his father. He is going to join the Navy in May after graduation, and he will be studying to be a dental technician. He is so excited about having a skill that he can use to make a living later in civilian life. I tell him I'm amazed at how wise he is for his age. I tell him my mother would have been thrilled if I had been half as mature as he when I was 18. He beams.
10:15 p.m. After the roundtable, I go around to meet as many of the residents as I can. I don't know if it is appropriate to hug them, but that is what I want to do. I want to do everything I can to help them see how important and valuable they are. Every child deserves that encouragement.
10:30 p.m. Time to head outside. After brushing my teeth in the ladies room, I join Kevin on the parking lot as we select our cardboard boxes. We then strategically pick our sleeping spot on the end of the row by some folks we don't know, instead of sleeping next to the mayor and his staff members. Something about sleeping in a parking lot next to the mayor is just too weird for me. Can't explain it. We get set up and climb into our bags.
11:00 p.m. It's cold. The concrete is hard. I notice that our cardboard boxes don't reach all the way to the bottom of our bags. At my request, Kevin grabs an extra box for our feet. We get harassed by other sleepers: "What are you guys doing, building a fort?" Kevin laughs, and also tells another sleeper, that if noises (snoring) come from our area, he's taking responsibility. He's a good man.
11:30 p.m. Despite my coat, gloves, three pairs of socks and my Elmer Fudd hat, I'm cold and uncomfortable. I put on my headphones, listen to an audio book and try to doze off.
1:30 a.m. I wake up. My nose is frozen. I'm going to have to sleep with my face in the sleeping bag. The ground is so hard. It's impossible to get comfortable. I look at the stars and try to relax.
3:00 a.m. I wake up. Lots of street noise. Was that a gun shot in the distance? I check the time. Two more hours. The novelty of this experience has definitely worn off.
3:50 a.m. I notice that ice crystals have formed on my sleeping bag.
Honest-to-goodness ice crystals.
4:15 a.m. Kevin and I almost get run over by a television truck getting in position to tape the sleeping group. I'm rethinking our strategy of being on the end of the row. There is no way I am falling back to sleep now. Too dangerous.
5:15 a.m. Even though there has been no official wake up call, I notice some of my fellow sleepers are rising and packing up. Kevin and I decide to do the same. We stash our sleeping bags and join the folks inside. I feel exhausted, but happy that we've made it through the night. I'm keeping the Elmer Fudd hat on because I know I have major "hat head" at this point.
5:45 a.m. Having coffee and visiting with some of the resident kids. They can't believe we slept outside while they slept in warm beds. They present me with a framed photo of me talking with a young man the night before and some handwritten notes from the young folks in our roundtable.
6:00 a.m. We head back, hoping we make it in time to let our four dogs out.
6:30 a.m. Back home, I lie down in our bed for an hour before heading to work. Physically, I feel like crap. Spiritually, I feel overwhelming gratitude for my bed, my home, my family, my job and for having an opportunity to experience one tiny bit of what so many St. Louis kids face every day.
So what did I learn? As an elected official, this type of event expands my view of the community I serve, which is essential. As a prosecutor, my role is straightforward. We hold offenders accountable based upon the laws and evidence available. We don't make charging decisions based upon the hardship of defendants or the background of victims. As a citizen, however, this event was profound for me. I found it challenging to spend the night out on the street, knowing my experience was nothing compared to the sustained loneliness and terror that homeless youth face.
I have a new empathy and understanding of these beautiful kids who just need adults who care about them. Kevin and I care, and we are both committed to volunteering with Covenant House Missouri. I look forward to our return.