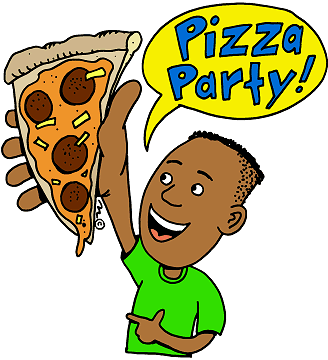 49-state pizza party? Yippee!
Ain't no pizza party like a pizza party we're not invited to.
In what seems to be the beginning of a war of White House petitions, people have responded to the wacko Missouri secession petition with one of their own.
1401 people (as of Thursday evening) have signed on to demand a nationwide pizza party should Missouri successfully secede from the Union. Is the guy who started this thing a Cubs fan or a Kansas alum?
Text of the clever petition:
Peacefully grant the remaining United States of America a Pizza Party furnished by Pizza Hut and Papa Johns (unless he keeps laying off his workers) should the State of Missouri succeed with one or both of their petitions to the White House to Secede from the Union.

As remaining loyal citizens of America, and to shove it in Missourians faces once they aren't a part of the US any longer, a Nationwide Pizza Party would reconcile differences, mend old wounds and bring together the nation.
Now the average Missourian wants to stay in the Union. The White House petitions that residents from 20 states have filed and successfully publicized seem to be coming from the "we don't want a crazy Kenyan/Muslim socialist president" set. If America does see fit to boot Missouri out of the Union one day, Daily RFT would like to make the case for letting us stick around (despite our occasionally vocal crazies):
1. You need our disgusting polluted river.
Big Muddy and the Eads, fouled by your commerce.
You need it more than you know. Last year you shipped over four million tons of goods down the Missouri River, distributing plenty of toxic discharge along the way. Hey America, you gonna use the Missouri River in good times (to explore yourself), knock it up (with pollution), and then kick it the curb when times get rough? That is so not what the founding fathers taught us (besides this guy). 2. With Todd Akin, we made this election all about ladies.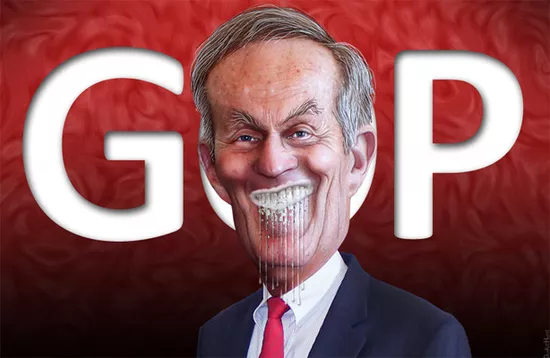 Esquire's photoshop of Politico's caricature of our gift to the Democratic party.
Dear Claire McCaskill, Barack Obama, Elizabeth Warren and everyone else elected because Todd Akin said something profoundly stupid that inadvertently came to represent the big, bad, right-wing boogeyman: you can thank us whenever. Without Todd Akin's foot-in-mouthery, who knows how this election would've turned out. Admit it: you need your boogeymen and your Tea-Party-Punching-Bags and you need us red-staters to give them to you. No blue state could've delivered such a dramatic Democratic upset the way we did this year. You're welcome, Mr. President. With love, Missouri.
3. We're right in the middle.
You don't want a puzzle with one piece missing right in the middle, right? Ultimate bummer.
Missouri is America's malformed heart in the heartland. You use it to talk about weather all the time on your morning talk shows (looking at you Rams-lover Kelly Ripa). Are you going to talk about Chicago, where it's always cold as a penguin's tit? Ya can't and ya won't. It's gotta be St. Louis, and it's gotta be Missouri.
4. Mmmm provel.
What kind of pizza party is it gonna be anyway without Provel, amirite?
Stay tuned for the sequel to this post: Why the Union is better off without Missouri.