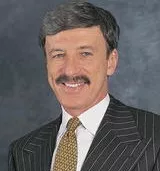 Powerful in more ways than one.
The headline above is -- in a nutshell -- the most revealing factoid to be found in
Sports Illustrated
's lengthy profile this week of Stan Kroenke.
As the magazine suggests, the owner of the St. Louis Rams, Denver Nuggets, Colorado Avalanche, and London's Arsenal football club (just to name a few of his teams) may be the most powerful, yet unknown, man in all of sports.
(And don't worry, Stan. Your secrets are still safe -- even from those who read all of
SI
's 4,000-plus words about you.)
It's hard to tell from the article if Kroenke is just secretive or really, really boring. ("Grounded and "normal" are the more generous terms his friends use.) Kroenke is notoriously media shy and seemingly only allowed writer L. Jon Wertheim to accompany him to the owner's box at an Arsenal and Rams game, in which the sports mogul mostly sat silently in his seat and watched the action.
"Time to score some goals, guys," Kroenke whispers to himself during the Arsenal match. Hardly a money quote.
Don't even bother reading the article if you're a Rams fan hoping to gain insight into Kroenke's chess match with the St. Louis Convention and Visitors Commission over the lease for the Edward Jones Dome. Kroenke -- citing an agreement with the CVC -- wouldn't discuss the matter. Presumably the same was true for addressing speculation that he'll move the team to Los Angeles if the city doesn't satisfy his demands for a publicly financed renovation.
Indeed, for people who've followed the stadium-lease saga here in St. Louis, the article really provides little you don't already know about "Silent" Stan. He's a shrewd businessman who made his money in real-estate development and who is married to a Walmart heiress. He's unwilling to lose money on his sports investments and would preferably like to own the stadium in which his team plays.
There was, however, this tidbit about his athleticism as a former high-school hooper:
"Kroenke still shoots the J, hikes mountains and squeezes in frequent early-morning workouts with Nuggets strength coach Steve Hess; he can bench-press 225 pounds 12 times. A few years ago, as the NBA team was evaluating draft prospects, a rumor rocketed around the Pepsi Center that the owner's percentage of body fat was lower than that of most of the players under consideration."
Admittedly, we are impressed.