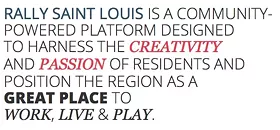 Try Googling 'Rally Saint Louis.' In between recent news items about a shooting at a local fast food chain and a final campaign push from Todd Akin, you'll see that a new organization seeking to market and promote St. Louis' reputation has gained an enthusiastic following.
Rally Saint Louis held its kick-off event at Plush last night, and Mayor Francis Slay, half of all the marketing and creative professionals from across the greater metropolitan area, and some especially savory pastrami wontons were on hand to celebrate the project that has produced so much buzz this week.
Aaron Perlut and Brian Cross, partners at the PR firm Elasticity and the pair behind Rally Saint Louis, are asking residents to submit ideas that they think will improve the city--or maybe just the city's image--to a website that went live last night. On December 1 the public will be allowed to vote for their favorite projects and then, after a few more voting/judging rounds, choose to fund the ideas they like most. The winningest ideas will be put into action by Elasticity, other creative firms, and volunteers around the city.
All you have to do is stop Googling kitten gifs (for a few minutes) and submit an idea to www.rallystl.org.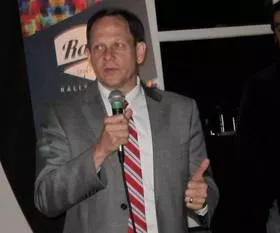 Leah Greenbaum
Mayor Slay spoke enthusiastically about Rally Saint Louis.
Cross explained that Rally is for anyone who feels the STL love.
"You wanna sit around and say 'you know what they [city government] should do?' Uh-uh. Get that idea on Rally St. Louis and we can make it happen," Cross said, explaining the crowdsourcing aspect of the project. "We're tired of seeing good ideas die on a pile of excuses and lack of resources. We're here to rally around your good idea."
Mayor Francis Slay told Daily RFT that he's not put off by Rally's reliance on crowdsourced funding, or by some of the rhetoric that makes city government sound financially and bureaucratically ineffective.
"This isn't just about raising money for projects," Slay said. "It's about engaging people across the city and bringing the best ideas to the forefront."
Good vibes were felt all around last night, as attendees enjoyed free booze and spoke eagerly about their upcoming submissions. We're still a little hung up on the idea Cross touted in the Post-Dispatch earlier this week: a life-size statue of Mad Men star and St. Louis native Jon Hamm in Kiener Plaza. Make it happen, guys. Rally's first promotional video, produced by Coolfire Media:
Although crowdfunding will begin eventually, Rally Saint Louis has plenty of startup cash on hand. The Kemper (of Commerce Bank) and Taylor (of Enterprise Rent-A-Car) families have donated $250,000 to get the project off the ground and additional financial support comes from Phil Fusz (of Lou Fusz Automotive Network), the Danforth family, the St. Louis Regional Chamber & Growth Association, the St. Louis Development Corp., Civic Progress and the St. Louis County Economic Council.
Leah Greenbaum
It was a swell party, complete with free t-shirts and fire-twirling.
Emma Klues, who works at Elasticity and volunteers with Rally, said she's excited about the project because it fills a gap left in the wake of recent creative endeavors like Good Ideas for Cities and Pecha Kucha. Those events have gotten people talking about what they love about the city, but Klues says that with Rally those ideas and projects can be realized.
"It enables people to take their ideas a step further," Klues said. "Right now St. Louis is a great place to talk or blog about your ideas...but after those conversations I think people have been like "yeah that's great, but now what?"