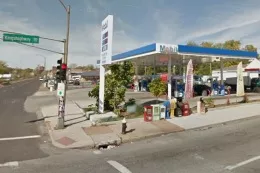 Image via
The Mobil station on Kingshighway where Vontel Harris was shot dead
Yesterday, Vontel Harris of the O'Fallon neighborhood was in the parking lot of the
Mobil station
at Kingshighway and Delmar Boulevard.
At about 1 pm., the cops say, a white, newer-model Mazda SUV pulled in front of him and a companion and started shooting.
Harris suffered gunshots to the chest, stomach, and right leg.
Someone drove him to the hospital, but he was pronounced dead there. He was 26 and had lived on the 4200 block of Athlone Avenue.
His companion -- described as a 23-year-old black male -- got shot in the upper left leg but survived and is in "serious but stable condition," according to police.
Police describe the suspects only as "two black males."
Investigation, as always, is ongoing.