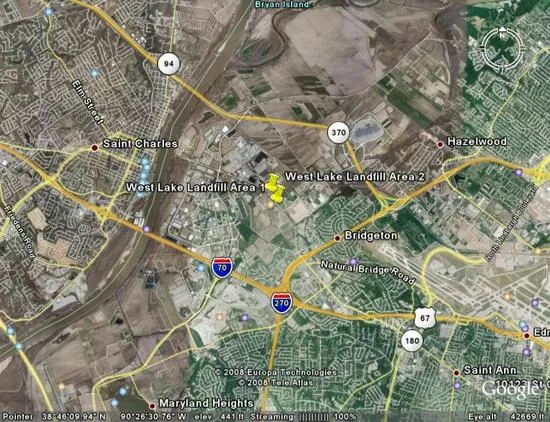 It'll take a few billion years for 8,700 tons of radioactive waste illegally dumped in a suburban landfill in St. Louis County to stop emitting deadly radionuclides.
But before that happens, if this apocalyptic cocktail of Cold War-era nuclear byproducts and municipal toxic waste (just your garden-variety carcinogens and PCBs) continues to sit in an unlined, uncovered dump within the Missouri River floodplain, scientists say we should anticipate disaster, even if the federal government won't. You can bet that a flood will come along at some point and carry this dangerous radioactive material into municipal water supply. The site is less than a mile from the river on St. Charles Rock Road, after all. Or maybe there will be a tornado that will sweep the stuff into the air. Or perhaps an earthquake that'll force this toxic goop deeper underground and into groundwater. A lot can happen in a few billion years. The next Fukushima could be in St. Louis' backyard, warns Bob Criss, an isotopic geologist who works at Washington University in St. Louis.
Related Content: --The Right to Answers (RFT's 2001 feature on a nuclear dumpsite near Weldon Spring) --Nuclear Half-Lives (RFT's 2003 feature on the St. Louis workers charged with enriching uranium for Mallinckrodt Chemical Works during the Cold War)
Last night Criss and members of the Missouri Coalition for the Environment held a public forum on the West Lake Landfill in Bridgeton, which unlike a dozen other radioactive dumpsites scattered across St. Louis, is managed by the Environmental Protection Agency. The history of the site is complicated, rooted in the early days of the Manhattan Project (a timeline follows) and it's seen numerous stops and starts on clean-up initiatives.
In 1973, Cotter Corp, a Colorado-based waste management company, was tasked with getting rid of the 50,000 chemical drums of nuclear sludge that have been cast off by Mallinkrodt Chemical Corp, the St. Louis-based chemical company that enriched uranium for the federal government throughout the Cold War. A lot of that waste had been stored in dry casks near Lambert Field Airport until the site was shut down the Atomic Energy Commission (it didn't meet basic safety standards) in 1973.
Cotter trucked most of Mallinkrodt's waste out to Colorado, but for some reason 47,700 tons of soil mixed with leached barium sulfate, uranium, and thorium were illegally dumped in the West Lake Landfill at 3570 St. Charles Rock Road, an unregulated site that has never met federal standards for the storage of nuclear waste. The site is now at the center of several lawsuits, in which residents allege that improper waste management resulted in illnesses like lupus, Hodgkin's lymphoma, and various cancers (we'll have more on that tomorrow).
Environmental activist Kay Drey of University City has been trying to draw the public's attention to the site for three decades.
"I think the federal government should pay to clean this up, as they are for a dozen other sites in St. Louis. This is the federal government's responsibility," Drey said last night.
Via Missouri Coalition for the Environment
Seriously, don't let your kids play here.
Drey believes the site should be moved out of the EPA's jurisdiction.
The EPA landed West Lake in 1990, when the site was added to their list of congressionally-approved Superfund Sites.
"They've been managing the site with rules that are applied to municipal waste, not nuclear waste," said Kathleen Logan Smith, Executive Director of the Missouri Coalition for the Environment, adding that the problem might be worse than any agency could imagine.
"We're not just talking about radioactive waste. We're talking about radioactive waste sitting in toxic waste sitting on top of ground water. This is a really dangerous cocktail here."
Officials from the EPA have been trying to figure out what to do with West Lake for over two decades. In 2008, after conducting investigations of the site, the EPA issued a "Record of Decision" for remediation efforts in West Lake. The decision was to put a cover over the top of the site and leave the waste there, while continuing to monitor groundwater in the surrounding area. Activists, residents, and the nearby city of Florissant condemned the non-solution and the EPA has been giving it a second go over the last couple of years.
A spokesperson for the EPA referred Daily RFT to a November 2012 fact sheet they released on West Lake. According to the release, they performed additional studies and groundwater testing in August (which was, if you remember, the driest month ever) and will hold a public meeting in January to discuss findings.
Ed Smith (no relation to Kathleen), Missouri Coalition for the Environment's energy policy director, tells Daily RFT that he's been disappointed by the EPA's unwillingness to work with activists on the site and with state politicians for their lack of interest. He cited a September article in the Beacon in which Senators Claire McCaskill and Roy Blunt both vowed to "seek answers" over recent findings that the federal government used north St. Louis to conduct (potentially radioactive) particle-dispersal experiments during the Cold War.
"They won't touch this," Smith said, referring to West Lake. "It irks me that they're concerned with people from the 1950s and 60s who probably aren't even really around anymore, when they could be helping people now, preventing a disaster that could hit them at any time."
Next: A timeline of the West Lake Landfill and history of nuclear waste in St. Louis
A Brief History of Waste Management at West Lake and Nuclear Waste in St. Louis

1939 - West Lake Landfill, owned by Rock Road Industries, opens as a limestone quarry and crushing operation.

1942 - Mallinckrodt Chemical Works agrees to enrich uranium for the first atomic bomb under the Manhattan Project (between July and December they produce a ton of pure uranium oxide per day)

1947 - The Manhattan Project condemns 21.7 acres north of Lambert Field Airport to serve as a disposal site for waste from Mallinkrodt and other facilities.

1950 - Portions of the quarried areas in West Lake begin to be used as a landfill.

1957 - Mallinkrodt signs a contract with the Atomic Energy Commission; move uranium processing facilities from downtown to St. Louis to Weldon Springs.

Early 1960s - Mallinkrodt hauls some 5,000 truckloads of waste from downtown to abandoned limestone quarry near their new plant.

1966 - Mallinkrodt closes down their uranium enrichment plants and hires Cotter to discard of the waste.

1973 - Cotter illegally dumps radiologically-contaminated soil at West Lake Landfill.

1976 - The Missouri Department of Natural Resources (MDNR) closes West Lake Landfill.

1982 - Radiation Management Corporation conducts a radiological survey of West Lake that indicates elevated levels of uranium and thorium.

1988 - U.S. Nuclear Regulatory Commission releases report of West Lake, determining that the site has two contaminated areas with about 150,000 tons of contaminated nuclear waste.

1990 - West Lake Landfill added to EPA's national Superfund Site Priorities List (a list of sites around the US requiring long-term clean-up efforts).

1993 - Army Corps of Engineers conducts several risk assessment studies and determines that if nothing is done to cleanup various nuclear waste dumpsites, the public will be exposed to unacceptable levels of radiation.

2006 - EPA's Remedial Investigation and Feasibility Study work completed.

2008 - EPA's Record of Decision completed and released; states that waste is best left at the site and that they will continue to closely monitor the area in case of groundwater contamination.

2010 - Opposition to EPA decision leads to commissioning of Supplemental Feasibility Study (which lays out two additional options for remediation at West Lake)

2011- 1,400 page Supplemental Feasibility Study for West Lake is finalized and made public.

January 2012 - EPA's National Remedy and Review Board has been reviewing the SFS report.

April 2012 - 16 people file class action suit against Mallinckrodt, Inc and other companies involved in production and disposal of nuclear waste, alleging that the mishandling of nuclear waste caused untimely illnesses.

Summer 2012 - EPA returns to West Lake site to conduct groundwater testing and take gamma scan measurements.

October 2012 - Two more people file suit against Mallinckrodt, et al; one is a father whose 23-year old daughter died in 2009 after being diagnosed with malignant pleual effusion and acute respiratory failure.

November 13, 2012 - Missouri Coalition for the Environment holds public meeting and calls on citizens to write EPA, government officials and demand that West Lake be transferred to Army Corps of Engineers.

January 2013 - EPA says they will host a public meeting to discuss findings.
Note: Much of this history was culled from a series that ran in the St. Louis Post-Dispatch called "A Legacy of the Bomb", which ran between February 12-19, 1989.