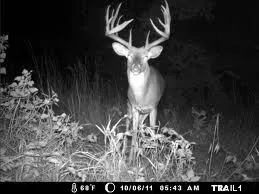 Fewer of these guys were shot this year compared to last. Stupid freaky weather.
Last Saturday at sunrise, firearm deer season began. It's a big deal across the state of Missourah. (Yours truly shot at a doe, but missed. No, I don't want to talk about it.)
But this year was kind of a let-down, with the opening weekend harvest dropping a quarter compared to last year, thanks to what the Department of Conservation is
calling
, "freaky weather."
Saturday was unseasonably toasty -- 75 degrees in central MO. This weather is not conducive to deer moving around. Then, on Sunday, it grew windy, colder and very rainy -- weather that's not conducive to hungover hunters moving around.
As a result, harvest was down 22 percent.
But all told, 69,614 deer were checked in the state of Missouri.
To give you some perspective: If those deer were people, they would fill Busch Stadium to capacity, with 22,753 more people standing outside. That's a lot of deer.