Valerie Eliot and her husband at a theater in Chicago in 1959. She once wrote, "I sat next to TSE, my darling, and that makes any play endurable." Also, is it possible she actually saw St. Louis?
Valerie Fletcher Eliot, who was married to the poet T.S. Eliot, who grew up in St. Louis and then moved permanently to England although he occasionally mustered enough nostalgic feeling to write poems about the Mississippi (which he described as "strong brown god--sullen, untamed and intractable"), died Friday after what her family described as a long illness.
She has been described as the one person capable of making him happy.
Given that Eliot was born in 1888 and died in 1965, you may be forgiven for thinking that Valerie Eliot was extraordinarily old. She was not. She just happened to be 40 years younger than her husband and was 86 when she died.
If you ever saw the movie Tom and Viv (as some of us had to in a creative writing workshop for reasons that as yet remain unexplained) you may also be forgiven for supposing that Valerie Eliot was batshit crazy. She was not. The film was about Eliot's first wife, Vivienne.
(For the record, Valerie was not a huge fan of the movie, which portrays her husband as an unfeeling asshole. "Tom tried very hard and for a very long time to make a go of it, and he's never given credit for that, is he?" she told the newspaper The Independent in a rare interview in 1994.)
However, if you suspected that Valerie Eliot, who outlived her husband by nearly 50 years, remained the steadfast guardian of her husband's legacy, editing his letters and turning down endless requests for interviews and access to Eliot's papers by academics and biographers but cannily selling the rights to Old Possum's Book of Practical Cats to Andrew Lloyd Weber, who turned it into the musical Cats (incidentally, the favorite play of former President George W. Bush)...well, you'd be right.
You can't blame Valerie for "Memory," though. Andrew Lloyd Weber came up with that unspeakable piece of shit all on his own.
It must also be noted that she used all the Cats money to establish Old Possum's Practical Trust, a literary charity, and the T.S. Eliot Poetry prize.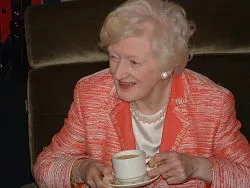 Valerie Fletcher first became obsessed with T.S. Eliot when, as a fourteen-year-old schoolgirl in Reading, England, she heard a recording of John Gielgud reading Eliot's "Journey of the Magi." By 1950, she had succeeded in become his secretary at the publisher Faber & Faber, where he worked as a director.
Their courtship moved at a pace that could be charitably described as glacial. Knowing that Eliot was besieged by poetry groupies, whom he escaped by ducking into the bathroom (ah, yes, the world was a different place back then), Valerie instead decided the best way to win his affection was by becoming the most efficient secretary ever.
"I can't get to know her at all," Eliot complained to one of his other lady companions. "She shuts up like a clam."
He eventually proposed by slipping a note into a pile of papers she was supposed to type up. After she accepted, he asked, "Do you know my Christian name?"
They finally married in 1957. The marriage was a happy one, marked by long evenings spent eating cheese and playing Scrabble. More significantly, Eliot's first miserable marriage, which ended with Vivienne's death in 1947, though the couple had, technically, separated in 1933, inspired his greatest work, including "The Waste Land" and "Four Quartets."
By contrast, during his marriage to Valerie, Eliot wrote no more poetry, except this, the dedication to his 1958 play The Elder Statesman:
To whom I owe the leaping delight
That quickens my senses in our wakingtime
And the rhythm that governs the repose of our sleepingtime,
The breathing in unison
Of lovers whose bodies smell of each other
Who think the same thoughts without need of speech
And babble the same speech without need of meaning.
The feeling was apparently mutual.