Daniel Alvarez
The Lou if by sea.
Daniel Alvarez is doing a super crazy thing.
Back in June he dumped a big yellow sea kayak into Lake Superior near the northern most tip of Minnesota and started paddling southward for Key West. As in Florida. He is out of his mind.
He is also having the time of his life. We talked to Alvarez last weekend, shortly before he was set to float through town and asked him to send us photos of his progress toward the Arch. And they are pretty awesome.
"It's going great," said the 31-year-old Tallahassee native from somewhere near Grafton. "A little chilly for a Floridian."
Alvarez's trip is being financed by Outside Magazine, which awarded him a $10,000 "Adventure Grant," though he was already a few days into the trip when he found out he'd won. As if it weren't insane enough that he's willing to make this 4,000 mile trip alone, it turns out he's not even a very experienced kayaker.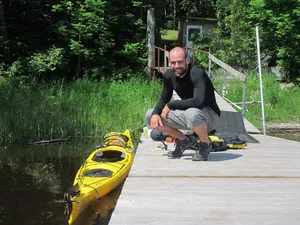 Daniel Alvarez and his big yellow kayak.
So far, however, he is doing a super good job of not capsizing and drowning alone in the wilderness. He says he's seen bears, wolves, and came within a yard of a bobcat while doing a portage from Lake Superior to the Mississippi River, but so far the most dangerous wildlife encounter has been when a jumping fish almost hit him in the face.
"I feel pretty good," he says of his last five months on the water. "It's not that lonely. There are stretches where you are alone. There are days when I haven't seen another person. But you meet folks along the way."
On Monday, Alvarez paddled his way from the point where the Missouri River meets the Mississippi River down to the Arch, dodged some barges, and disembarked to stay for a few days.
After the jump, check out photos Alvarez took along the way and some of the surprising riverfront architecture he encountered.
Missouri meets Mississippi.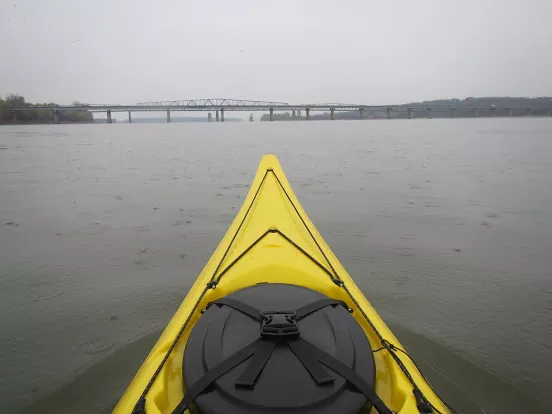 Approaching Chain of Rocks.
Some river castles. Just kidding! They are water intake towers built in the 1890s and we have no idea how they work.
Sharing the road with a barge.
The new Mississippi Bridge under construction.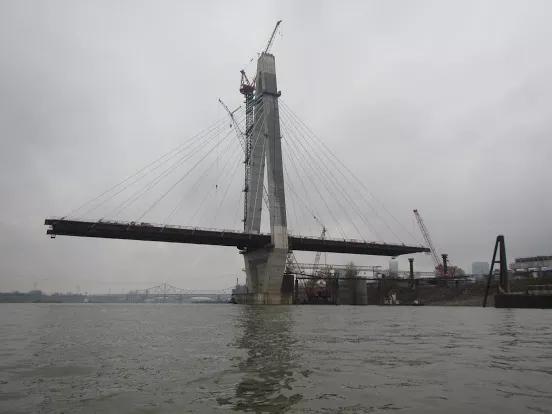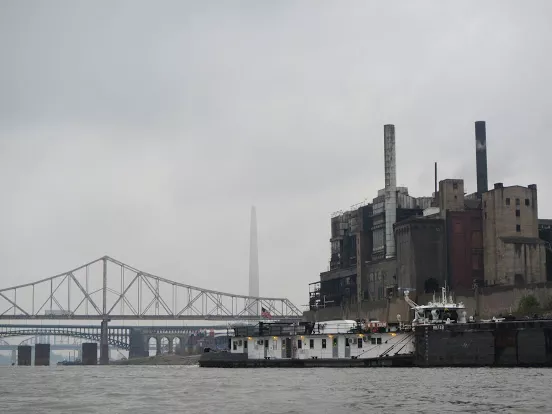 Alvarez told us he planned to stay a few days, watch the elections, and go up the Arch. He did all that and more, and sent us an email yesterday which was a huge love letter to St. Louis. We thought we would share it:
I got picked up at the arch by a really nice woman who has wanted to paddle the Misssissippi and emailed me about a month ago to see if she could help out with a shower or a place to stay.

Her and her landlord picked me up in his moving van and they kayak spent a couple days hanging out in her apartment in Soulard, taking up most of the living room and a bit of another room. Her, her partner, and I ended up watching the election together and cheering as the returns came in.

They also showed me a lot of St. Louis, took me to the arch (of course!) and then to the City Museum where we crawled, squeezed, and explored for hours until I was covered in bruises and so happy that a place like that exists. What a gem! When you told me to go, I thought it was a regular old museum. Such a cool place!

This morning, they dropped me off back at the riverfront near the arch. We said sad goodbyes and gave each other hugs. Now I'm floating south. So neat that two complete strangers turned into friends and I got to see just how great a city St. Louis is. I'm going to miss it!

At least it is a beautiful day today. It would have been almost impossible to summon the will to leave great folks and a great city behind in the rain.
Alvarez has about two or three more months to go. Follow his progress in photographs here and on his blog Predictably Lost.