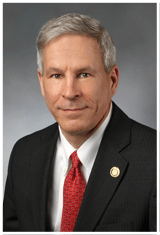 Missouri State Senator Rob Schaaf
November 16, folks.
That's the deadline for Missouri to decide whether our state government will set up the "insurance exchange" required by the Affordable Care Act (a.k.a. Obamacare), or whether the feds will swoop in and set it up for us.
It's only one week away, so Daily
RFT
called
Republican state senator Rob Schaaf
of St. Joseph, who's been deeply involved in this issue, and asked whether state leaders will decide on time.
"Deadline schmedline," he says. "An artificial deadline by the federal government doesn't scare me."
Schaaf is
not
a fan of Obamacare -- so much so, in fact, he seems to have moved into a weird spot, ideology-wise: As a member of the GOP, he likes lower taxes for people, but not when Obamacare lowers them.
(This measure arose out of the fear that Governor Jay Nixon's administration was implementing the health law on the sly; with Prop E, Schaaf and his colleagues sought to guarantee themselves some say in how it gets done).
Last Tuesday, Missouri voters agreed with Schaaf, and passed the measure.
But here's the thing: There's really no "if" anymore about Obamacare. It's
happening
. The Supreme Court upheld the law in June, and any hope of repealing it withered when the president got re-elected.
Which means the uninsured will have to buy insurance (a.k.a. "the individual mandate"). It also means they'll be able to do this, in Missouri and in every state, by going to a statewide "exchange," which will be something like Expedia or Travelocity but for health plans.
Missouri's exchange can basically only get legs with legislative approval, thanks to Prop E. But Obamacare gives lawmakers an out: If any state fails or refuses to set up an exchange, then the feds will come in and do it themselves.
So Daily
RFT
asked Schaff on Thursday which he would prefer. You would think he'd want that power and control, since he worked so hard to get it. But no.
Schaaf believes that things will look quite different depending on who sets it up.
For example, under Obamacare, low-income folks can get a tax break for buying their insurance. In Schaff's reading of the law, though, they won't get the tax credit if the feds set up a state's exchange.
But wait, we asked him:
That's
the situation you prefer? You prefer that the feds set up the exchange, so that if Missourians are forced to buy insurance, then they
not
get a subsidy for doing so?
"If you believe in subsidies, then that would be bad for you," Schaaf says. "I myself don't believe we need to expand the welfare state."
Professor Timothy S. Jost
, a health-law expert at the Washington and Lee Law School in Virginia, tells Daily
RFT
that he's heard of this kind of Republican position on the exchanges, and thinks it makes no sense.
"It always struck me as odd," he says, "because Republicans are usually in favor of tax benefits for people."
Jost says that most people -- the IRS included -- have interpreted the law to mean that low-income folks will get that tax credit no matter who sets up a state's exchange.
"The larger point," Jost says, "is why would a state official want to deny the citizens of Missouri who can't afford health insurance access to probably billions in tax benefits so they can get insurance?"
Schaaf has an answer to that question. He tells Daily
RFT
that "there are fines that are applicable to employers who have too many people going through the exchange" to get their Obamacare-mandated coverage. "But those fines are only applicable if there's a state-based exchange."
Again, Professor Jost disagrees and maintains that Congress clearly intended the exchanges to run the same way, regardless of who sets them up.
In any case, Schaaf insists that the states need more guidance from the feds on how to run this exchange.
"We have to get more information," he says. "Whether or not we should do it is very complicated we don't know what all the thousands pages of rules from Health and Human Services are, and what our options are. Whether or not we do this will take a lot of study."
But by now, it's pretty clear: Somebody's going to have to do it. Doesn't sound like it's going to be Jeff City.