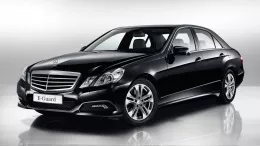 Don't do it, Eddie! Ahh. You did it. Prison time.
On February 12, 2011, the FBI and East St. Louis Police set a trap for Eddie Johnson.
Johnson is now a 47-year-old from Cahokia Illinois. Back on that fateful day, he was also a tow truck operator.
There were rumors at the time of tow truck company corruption on that side of the river, so the FBI decided to conduct an "integrity test."
They procured a Mercedes, stocked it with diamond earrings, a purse, a debit card and other valuable stuff, then put cameras around it.
They left it somewhere so it would look like a stolen car, and had the police call it in to Johnson's towing company as such.
Johnson, of course, took all the bait. Then later, he lied about stealing the stuff to the FBI and to a federal grand jury.
He pleaded guilty Thursday to theft of government property, lying to the feds, and lying to the grand jury.
But let's go back for a moment to that integrity test: How is that not entrapment?
"Entrapment is where you use something to overcome someone's desire to NOT commit a crime," James Porter, spokesman for the U.S. Attorney for the Southern District of Illinois, told Daily
RFT
.
But in the case of the expensive stuff inside the Mercedes, Porter says: "It was just there."
Noted.
Eddie Johnson now faces a maximum of 15 years in the pen, a fine of $750,000 and three years supervised release.