via FiredUp Missouri
Here's to hoping this is the last time we run a picture of this guy's mug.
What's Missouri gonna do without Todd Akin in politics? We've gotta admit we'll miss the man who has provided so much entertainment from "legitimate rape" to "at the heart of liberalism really is a hatred for God" to the pilgrims who fled "socialism" in Europe.
Read more about Todd Akin on Daily RFT:
But despair not, goodly people. Plenty of colorful Missouri politicians remain in office. Here are four of the wildest, wildcards...
5. Tim Jones--Missouri Birther Speaker of the House
Speaker Tim Jones and Birther Queen Orly Taitz teamed up on a lawsuit questioning the validity of Obama's birth certificate.
Tim Jones, a Republican from Eureka, isn't exactly known around town for his moderation. He's been dragged out of House chambers for screaming at his colleagues, sponsored the infamous "Don't Say Gay" bill and spoke up about relaxing restrictions on gun ownership the day after the Aurora theater shooting. But it's his participation in the bizarro "birther" conspiracy theory movement that earns him a solid place on our list. Jones was represented by "Birther Queen" Orly Taitz in a federal case alleging that President Barack Obama was actually an Indonesian man by the name of Barry Soetoro (and thus ineligible to be President of the United States). The lawsuit might be over and the really-real-for-realzies birth-certificate released, but Jones hasn't renounced the bogus (and yes it is bogus) theory yet, when pressed by reporters.
Next: Which alderman broke a voting machine this week? 4. Stephen Conway--Hot-Headed 8th Ward Alderman
Alderman Conway is one of the board's most vocal members.
8th Ward Alderman Stephen Conway has the cajones to do what very few politicians will do in Missouri: challenge retired gazillionaire Rex Sinquefield to a mano-a-mano smackdown at City Hall.
"We're being held hostage with his money," a revved-up Conway told his colleagues at a public meeting in 2010. "You're trying to destroy the city of St. Louis. Come out here and tell us you're for us!" He then invited Sinquefield to "come and kick our asses" if he's up for a fight about the city's earning taxes.
You never know what you'll get with Conway. This week he broke an electronic voting machine after becoming frustrated when the screen would not allow him to click back. Ripping his ballot receipt from the machine apparently damaged a memory card.
Next: A lady pol who doesn't mind the occasional Twitter war. 3. Jamilah Nasheed--State Senator and Unrepentant Hard-Ass
Jennifer Silverberg
Coming to a state senate near you.
Jamilah Nasheed didn't go in to politics to make friends. A former convict and community organizer, Nasheed doesn't always have the politick ways of (some of) her peers. The lady speaks her mind and more often than not, there's someone out there who doesn't like what they hear.
From "I'm black before I'm a Democrat" to calling a colleague a "thug" on Twitter (which to be fair, was just a response to name-calling he initiated), Nasheed has a knack for truly pissing off everyone around her.
Next: Boobs! (or a pol who loves them) 2. Peter Kinder--Missouri Lieutenant Governor Who Loves Big Hooters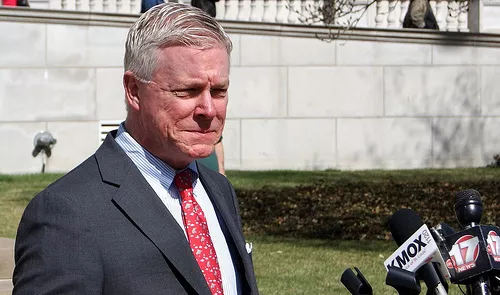 Peter Kinder has learned to bite his tongue--and pull up his pants.
Peter Kinder miraculously won himself a third term this week. His political future looked bleak last year after Daily RFT broke the story about his alleged creepy infatuation with (and sexual harassment of) former stripper and Penthouse Pet Tammy Chapman. He dropped a bid for governor and faced a formidable opponent in Susan Montee (who, apparently, can't hold her liquor very well).
Despite the fallout, the lifelong bachelor just can't help himself. From encouraging people to go to Hooter's for veteran's day to chalking up absurd conspiracy theories of his own, this guy loves putting his foot in his mouth. It's also worth mentioning that Kinder is really into the pro-life, anti-gay "family values thing".
Next: a guy who got on the wrong side of animal abuse laws. 1. Bill Stoufer--State Senator and Unwitting Puppy-Hater
Stouffer campaign
A love-hate relationship with his canine constituency?
Back in 2010, Missourah held the dubious distinction of being the "Puppy Mill Capital of America". The Show-Me state was home to 30 percent of federally licensed dog breeders in the United States, institutions that often went unchecked. That year, Missouri voters approved a law that forced breeders give their dogs access to food, water, veterinary care, and enough room to turn around in their cages. You know, all the stuff that any decent pet owner would give their animal. Guess who filled a bill to the new state law a month after it passed? State Senator Bill Stouffer, a Republican from Napton.
Stouffer's campaign for Missouri secretary of state (he lost the party's nomination in August to Shane Schoeller) prominently featured his bloodhound, Duke. Duke appeared in most campaign billboards and helped Stouffer out with robo calls.
"Hi this is Senator Bill Stouffer and that's my dog, Duke," Stouffer says at the beginning of the calls, as Duke barks (probably canine for "help me!"). "Whether stopping voter fraud or making it easier to start a business, we ought to do better. Isn't that right, Duke?"
Irony much, Stouffer?