The man responsible for childhood nightmares.
There has never been a figure in children's literature quite like R.L. Stine.
In his early career, he wrote humor and joke books for children under the pen name Jovial Bob Stine. In 1986 he wrote his first horror novel, Blind Date, which quickly climbed the bestseller list, soon followed by a series of other horror novels that would become his first breakout series, Fear Street. Encouraged by his success with spooky novels aimed at teenagers, Stine decided his next series, Goosebumps, should target a slightly younger demographic of kids ages seven to twelve. It was the first series of its kind.
Shrewd move, Mr. Stine.
Since launching Goosebumps in 1992, Stine has sold more than 350 million books worldwide. This year, in celebration of the series' twentieth anniversary, Stine has released his first novel aimed at his now grown-up fans, titled Red Rain. On Friday, November 9, he stops by the St. Louis Jewish Book Festival at the Jewish Community Center (2 Millstone Campus Drive; 314-432-5700) to talk about Goosebumps and Red Rain.
Daily RFT caught up with Stine -- who goes by "Bob," by the way -- to learn what fans can expect from Red Rain and what it's like to terrify children for a living.
You defined horror fiction for a generation of kids in the '90s. What inspired you to write Red Rain, very much a book for adults?
R.L. Stine: It's my first book for adults in fifteen years. My original readers grew up. That's why I wrote it. It's is the twentieth anniversary of Goosebumps. All those kids who were ten, eleven, twelve back in the '90s, reading Goosebumps, they're all your age [mid-20s, early 30s] and I hear from them on Twitter all day.
Your Twitter account (@RL_Stine) is very entertaining.
RLS: I love Twitter because it really helps me keep in touch with my old audience. They're wonderful, they're just wonderful to me. They say, 'Thank you for getting me through my childhood,' or, 'You were my childhood,' or 'I wouldn't be a librarian today if it wasn't for you.' Just wonderful notes. Then they all say, 'Please write something for us.' So I thought: Here I have my old audience, it's huge, I should listen to them. That's really why I wrote Red Rain.
The humor in Goosebumps books helped keep even the creepiest narrative light. The same is true in Red Rain.
RLS: Whenever I think it's getting too intense I throw in something funny. There's just a lot of teasing in Goosebumps.
The police officer in Red Rain provides a lot of comic relief, especially in a certain scene. Was it fun to write that kind of Barney Fife, bumbling cop character?
RLS: He was not a good cop. He was bad. That's one of my favorite scenes, I loved that. I sort of can't help but put funny stuff in. That's just my personality. My idea was that he'd be a really incompetent cop. Very unhappy because he moved to Sag Harbor to have a quiet life. He just wanted to do traffic. Then suddenly he's facing these hideous murders. It's not why he moved out there. He's totally disoriented. I thought he'd be the bad cop but the hero at the end. And he actually is.
Red Rain sees you delve into sometimes gory, sometimes sexy territory where kids are evil and adults are the vulnerable ones. Sort of turning Goosebumps on its head.
RLS: It's a little more evil, a little more gruesome, right? No one ever died in Goosebumps. It worked out fine. Always a happy ending. The thing about Goosebumps, seriously, is that it never goes too far. It's kind of creepy, but you know it's not going to be upsetting. I thought people would find that ironic. If I wrote about evil kids. My idea for Red Rain was to do really evil kids and very naive adults. In Goosebumps, the kids are really good and they're totally on their own. The parents are useless in Goosebumps, they never believe the kid or they're not there. The protagonist has to solve the thing and be victorious, they have to use their imagination and wit and get out of it on their own. That's the only moral message in Goosebumps. No other messages.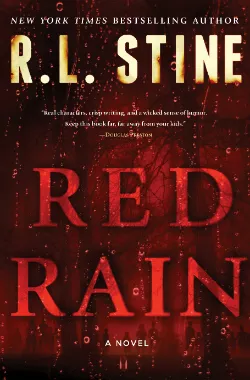 R. L. Stine's newest novel for adults, Red Rain.
Was it a challenge writing for an adult audience? What was your process like?
RLS: I hope they'll have the same kind of reading experience and I hope it will creep them out. That's my job, scaring people. That's what I do for a living.
It's sort of like a sprinter who suddenly decides to do the marathon. It's sort of the same skill but you have to change everything. Everything you do is different. Partly because it's so much longer than a children's book. It has to be so much more real than a children's book. So much more detailed. I actually have to do characterization, which is something I don't do in Goosebumps deliberately. I want the Goosebumps reader to think they're the protagonist. I want the reader to identify with the main character so I don't do a lot of characterization to get in the way of that. When you write for adults, of course you have to create real characters for them. That was a challenge.
Goosebumps were such page-turners. It was easy to read one in a day.
RLS: I wish I could write them that fast. That would've been good. In the '90s they came out once a month. I never got out much; I was always home. I had to write one a month. It was unbelievable.
How did you get started writing Fear Street, Goosebumps, horror fiction for children?
RLS: I'd been writing for kids a long time before that. I never really wanted to be scary. I was always funny. I only wanted to write funny stuff. I wrote about a hundred joke and humor books for kids before I got scary. Here's the embarrassing part: Being scary wasn't my idea. This is embarrassing. I always loved horror but I never thought about writing it. One day I was having lunch with an editor and she said, 'I need a scary novel. I need a horror novel for teenagers. Go home, write a book called Blind Date.' She gave me the title and everything. That's how I got started. I went home, I spent like three months on it, and it came out and it was a number one bestseller. Like top of the publisher's weekly list. And I thought, 'Wait a minute, I've been writing for twenty years. I've never had a bestseller. What's going on here?' Then I wrote another one called Twisted. And it was a number one bestseller. And I thought, 'Wow I've stumbled onto something here. I've struck a chord with kids. I've found something they like.' And that's how I got scary. I've been scary ever since. That's really how it started. Then we did a series and I started the Fear Street series for teenagers -- killing off teenagers. No one had ever done a scary series for seven- to twelve-year-old and we tried a few. It just took off; it all got crazy.
Speaking of beginning with a title, I read that's how you wrote Goosebumps books. You always begin with the title and then go from there.
RLS: Always. I guess that's backwards from most authors, right? Most authors get an idea and then they work on it and eventually think of a title. I've written 110 Goosebumps books, that's a lot. Almost all of them started with the title. I was walking my dog in the park and these words popped into my head, 'little shop of hamsters.' I don't know where it came from, I just had it. I thought, 'Great title. How do I make hamsters scary? What if there are hundreds of them? What if there's this weird pet shop?' That's kind of how I do every book. I get the title and it sort of leads me to a story.
Was that how you approached Red Rain too?
RLS: Red Rain was kind of different. I started out with the idea of evil twins. Then evil twins and naive adults, cause there were a lot of horror movies I watched that had really evil kids. I went back and I watched them, they were called The Village of the Damned, Island of the Damned and Children of the Damned. They all had these really extraordinary, sometimes supernaturally evil kids, and adults who were just clueless. I watched those movies again and I thought that's what I'd do. Then I got really interested in twins. I realized that people find twins scary. Right? All through time, even today, people have weird ideas about twins. Even today people think that if you poke a twin with a pin that the other one will feel it. Things like that. In the old days there were tribes that would separate twins at birth because it was such bad luck. There's all this mythology.
Do you have children? What's it like having R.L. Stine for a dad?
RLS: My son Matt is 32. His claim to fame is that, this is true, he was the right age for Goosebumps and everything, he never read one. Isn't that horrible? Just to get Dad. Just to make me nuts. He never read one. I actually put him in a Fear Street book. He's the star of one. He never read it. Only Garfield comics, his whole childhood. That's all he would read. Then he went off to college and he was an English major. Go figure. He'd bring [Goosebumps] books to his friends. He'd ask me put his friends in the books. He just never read one.
At the St. Louis Jewish Food Festival you're speaking about Red Rain and Goosebumps. What can people expect from both speaking events?
RLS: I guess I'm doing both. We'll find out who shows up. That will be fun. My current tour is a Red Rain tour and it's really adults but you can't stop kids from showing up. And I always love to see them. I'm the author who likes to tour. I enjoy it a lot. I usually just talk a lot. I'll talk about Red Rain. Maybe if there are kids there I'll read something from Goosebumps or tell a ghost story. Sometimes I like to write a ghost story with kids if there are a lot of kids there. That's always fun. I'll do a book signing and sign whatever they have.
Will you write more books for adults?
RLS: It all depends if people like it. If people accept me as an adult author and if my old readers pick it up and people buy it, I'd love to do more. It's a challenge for me, but it's fun, too.
What do you hope your grown-up fans gets out of Red Rain?
RLS: I hope they'll have the same kind of reading experience and I hope it will creep them out. That's my job, scaring people. That's what I do for a living.
R.L. Stine will be at the St. Louis Jewish Book Festival on Friday, November 9, speaking to kids about Goosebumps at 10:30 a.m. and about Red Rain, his latest novel for adults, at 1 p.m. alongside author Heather Brewer.