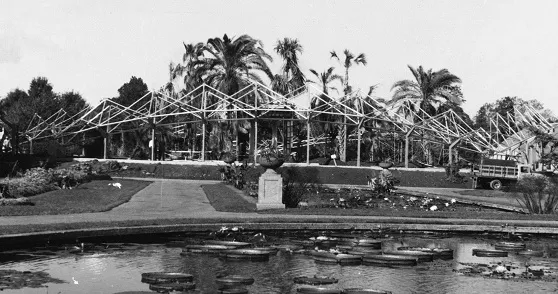 Framework for the Climatron rises around the garden's existing palm trees in 1959.
Each week publishers bombard
Riverfront Times
with dozens of books that we will never read. Once in a great while, though, one of those unsolicited tomes will sit on a desk long enough for someone to actually pick it up. Such was the case last week when we received (and actually flipped through!) a copy of
Missouri Botanical Garden
.
There, by golly, on page 100 was something we never knew. MOBot's famed Climatron was built around existing palm trees! Unfortunately, the story does not have a happy ending. Not for the trees anyway.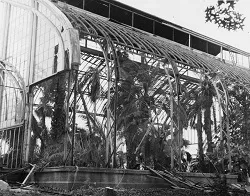 The Palm House comes down to make way for the Climatron.
As author Todd E. Styles explains in the book, the Climatron was built to replace the aging Palm House that, beginning in 1913, housed the garden's tropical plants. Construction of the Climatron got underway in 1959 with the dismantling of the Palm House. The hope was that MOBot could then build the Climatron quickly enough in the Palm House's footprint to salvage the trees before the first frost of winter. It didn't happen.
The Climatron, with new palm trees, opened in October 1960 and quickly became the garden's biggest draw. So there you have it. Now go impress your friends with this amazing factoid!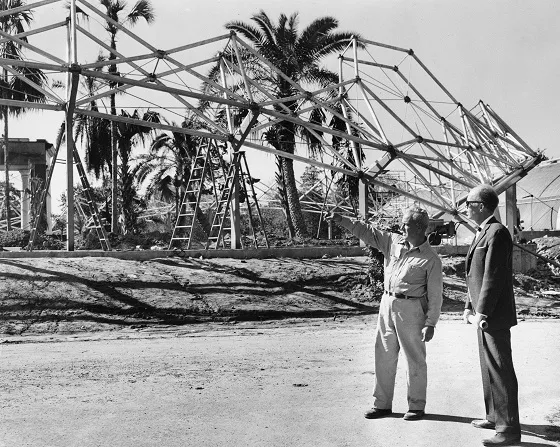 Foreman Albert Daufenbeck (left) and architect Eugene Mackey discuss construction of the Missouri Botanical Garden's Climatron in 1959.
Photos reprinted with permission from Missouri Botanical Garden, by Todd E. Styles. Order your copy online at www.arcadiapublishing.com or by calling 888-313-2665.