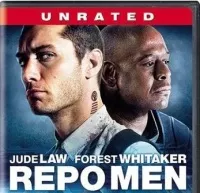 Did you see this? Neither did we.
Tuesday evening at 7:15, two men came to the
2900 block of Hadley Street
in the Old North neighborhood, cops say.
Their goal: Repossess someone's vehicle.
However, as they were trying to git'er done, someone started shooting at them from the front of a residence nearby.
Police describe the suspect as a black male, just over six feet tall and weighing around 200 pounds. The suspect was wearing a white T-shirt and blue jeans.
The suspect didn't injure anybody. He did, however, injure the driver's side of the repossessed vehicle.
Speaking of which, it must kind of suck to be a repo man. We know this from the movie,
Repo Man
, which starred a young Emilio Estevez and which famously taught us that certain jobs offer comparatively better career advancement: