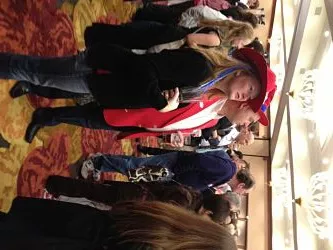 A pair of Akin fans at last night's watch party.
In retrospect, the outcome of the evening should have been clear around 8:40, just after FOX2 News (KTVI) announced that Claire McCaskill had a commanding sixteen percent lead over Todd Akin with four percent of precincts reporting.
Read more about Todd Akin on Daily RFT:
A few Akin supporters at the candidate's election watch party at the Doubletree Hotel in Chesterfield appeared concerned. But just after the early returns flashed across the bottom of the screen for the second time, a young woman began circulating through the crowd with an armful of Akin for Senate t-shirts.
"Would you like one?" she asked. "Sorry, we only have sizes small and extra-large."
"I'll have a small, please," said one young woman. The two men standing next to her smiled, but declined the free shirts.
Outside in the lobby, all the Romney-Ryan merchandise was still for sale. Though, to be honest, the display didn't look very disturbed and had, in fact, been abandoned.
------
They stood just inside the door of the ballroom: a group of actual Missouri Women who Stand With Todd Akin. Since "legitimate rape," it was hard to remember that such creatures existed. "Republican women are not single-issue voters," said Kim Benz, their leader. "We're concerned about the economy."
"Republican women get a bad rap," adds Brandy Pedersen. "We care about everything."
"Everything male voters care about," concludes Becky Danidger.
Republican women care about the issues, but hot chicks still dig Paul Ryan.
"How to stretch a dime," says Benz.
"That's something every wife and mother needs to know how to do," Pedersen comments.
"And single women, too!" Danidger protests.
Pedersen nods. "Single women, too."