Leah Greenbaum
Crowd's response at the Chase Park Plaza as CNN called the election for Obama.
Who was the saddest man at the Chase Park Plaza last night? He was tough to find amid a jubilant crowd 500 strong celebrating big Democratic victories at all levels of government, but tucked in a corner behind shrieking college students and a woman sobbing into her cell phone, we found him.
Mark "Julio" Williams, a bartender at the Chase, said it was a good night for tips and a terrible night for the nation.
"I can't believe that there are just so many people in this country who just don't listen," Williams said, shaking his head between filling champagne flutes for revelers. "We are going to hell in a hand basket."
Williams was just about the only sour face last night at the Missouri Democratic watch party, a euphoric who's who of St. Louis politics and the place where Senator Claire McCaskill issued her victory speech.
"They all said, 'It's over. It's done. It's too red, just too red. There is no way that Claire McCaskill can survive," McCaskill said to a packed, cheering room. "You know what happened? You proved them wrong."
Leah Greenbaum
McCaskill vowed to return to the Senate "first as a Missourian".
Somewhere in the back, Romney-Ryan campaign button pinned to the inside of his work vest, Williams let slip a friendly grimace.
--
Early in the night though, the food was spare, the drinks overpriced, and the odds for McCaskill and Obama uncertain. Wolf Blitzer's monotone did little to soothe an anxious ballroom, even as early returns consistently put Obama ahead. Some found hope in $10 wells drinks, while others gathered around CNN.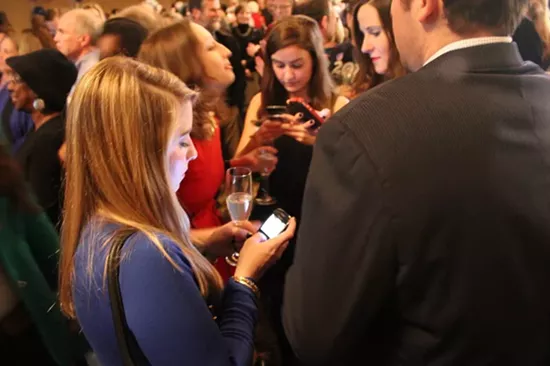 Leah Greenbaum
The revolution (?) was tweeted.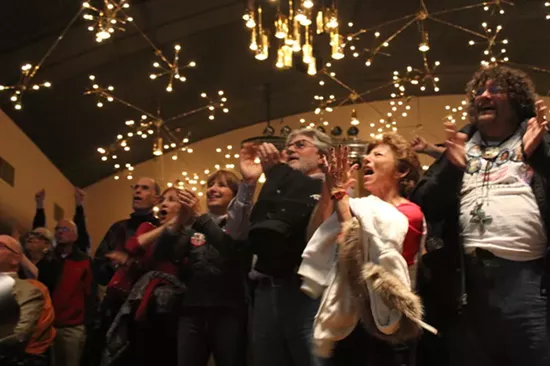 Leah Greenbaum
Joy Sterneck, in red and white Obama shirt, cheer for elections returns from Ohio.
Joy Sterneck stood front row center in the Chase's grand ballroom and gave booming cheers, high-fives and hugs with each blue return. The petite business owner and fierce Democrat said she was keeping her energy up through sheer adrenaline.
As CNN called the election for McCaskill, the entire room erupted in raucous cheers, just one of many times that evening. A Missouri Democratic Party staffer in a suit and American flag pin did a victory lap around the room through Anderson Cooper's droll pronouncement. Sterneck returned the man's enthusiasm with the double high five of an NFL linebacker. You'da thought we'd won the World Series... or were at a Bruce Springsteen concert.
Leah Greenbaum
Big boos as Romney won Missouri by ten percent.
"I can't wait to start watching the news again," Sterneck said, when asked about her plans for an after-party. "It's been too stressful the last few days, so I've been tuning out. I'm going to go home and watch the news and be happy."
-- On the other side of the ballroom, Sharon Klein was offering to sign a boy's arm.
As her friend, Nancy Kennedy explained it, "some little kids wandered in and whispered to their grandpa 'Is that Claire McCaskill?'"
Klein is a dead ringer for the senator, so much so that she was approached multiple times last night by well-wishers and reporters.
Leah Greenbaum
McCaskill's doppleganger with friend Nancy Kennedy, left.
"I was at Rue Lafayette [a cafe in Lafayette Park] this summer and a musician who was performing there said 'looks like we have Senator Claire McCaskill with us tonight' and everyone applauded." Klein hasn't campaigned on her doppelganger's behalf, and so far everyone's turned down her offer for autographs from Susan Klein.
Kennedy, her friend, was quick to to link their support of McCaskill to Akin's infamous "legitimate rape" comment heard round the world.
"As soon as I heard that, it was over," Kennedy said, as faux McCaskill laughed. "Once you're dumb, you're done." --
Leah Greenbaum
Michael Jones in a blue shirt, and Daniel in his mother's lap.
Fourth-graders Michael and Daniel Jones woke up at 4:30 yesterday morning to help their mom with a last-minute push for McCaskill. They sat on the floor, sleepily in mom's arms waiting for McCaskill to speak.
"I remember years and years ago my dad took me to see Reagan speak," Dawn Jones, their mother and an administrator at SLU hospital said. "He put me on his shoulders and Reagan actually waved to me."
(She says that as she's gotten older, she's "gotten wiser and gone blue.")
"I wanted my boys to have that experience too," she said.
Leah Greenbaum
Claire hits the floor.
The twins went to Wash. U after school to pass out water bottles and snacks to students who were waiting in line to vote. Michael doesn't really care for politics; he'd rather be an artist he said drowsily from his mom's lap. But Daniel is ready for the nation's highest office.
"I want to be president! You have to admit the White House is pretty cool," he said with a fourth grader's joie de vivre. "Who wouldn't want to live there?"
--
McCaskill stayed in a hotel room upstairs until the results were official -- she trounced Akin, with 54.7 percent of the vote to his 39.2 percent (the Libertarian candidate Jonathan Dine got 6.1 percent).
After receiving a "gracious" concession phone call from Akin, the campaign played a tribute video to McCaskill's mother Betty Anne, who passed away last week at the age of 84. McCaskill dedicated the victory to her mother, who was the first woman elected to city council in Columbia.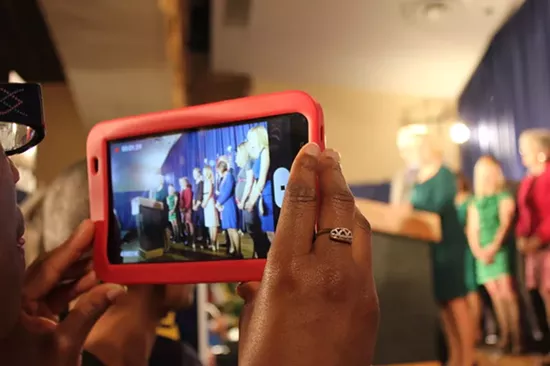 Leah Greenbaum
A woman films McCaskill's speech with her iPad.
McCaskill bounded onto stage around 11 p.m. to Tom Jones' "She's a Lady" (Stevie Wonder's "Signed, Sealed and Delivered" was also on repeat last night).
Her remarks were brief, pretty standard stuff. She extended an olive branch of bipartisanship to her detractors.
"I go to Washington first as a Missourian," she said to wild applause. "I will continue to be a senator who works across the aisle in a bipartisan way."
The dancing started as McCaskill left the stage (not to reappear again), and overtook the entire ballroom. Bruce Springsteen's "Born to Run" got a few people getting freaky who you maybe wouldn't want to see getting freaky. It also got the college kids and volunteers a-jerkin' (more than one young lush popped a button).
CNN called Obama's victory soon after McCaskill left the ballroom and the room erupted into cheers, dancing, hugs, and tears. Julio Williams, the Republican bartender, just shrugged as merrymakers and co-workers offered their condolences.
"I've got nothing against the people here. Everyone's been great," he said. "This is like a Cubs-Cardinals kind of rivalry. It's friendly -- and the tips have been great tonight."
Leah Greenbaum
Julio Williams shows off the Romney-Ryan button pinned to the inside of his vest.
As the dust (no confetti -- looks like the Dems threw all their money into the campaign) settled, crowds poured out of the Chase in search of cheaper drinks. Bar Louie and the Royale were packed by the time Romney got around to conceding.