Spence: "It is what it is. Now let's celebrate."
It was never so much a victory party as it was a wake. A good wake, mind you. The kind with lots of drinks and a few hearty laughs. Still, the hint of death permeated the hotel ballroom at Dave Spence's watch party last night.
Around 10:30 p.m. the Republican candidate for Missouri governor finally appeared to tell his supporters gathered at the Frontenac Hilton what they already knew from watching television coverage of the election.
"Even though we will win the majority of counties in the state, we just can't overcome the [losses in the] metro areas," said Spence, flanked on stage by his family. "We are going to come up short. It's the reality, and I'm a realist."
After thanking the 300 campaign volunteers and voters assembled in the room, Spence concluded: "It is what it is. Now let's celebrate."
But just what kind of celebration can Spence's camp throw?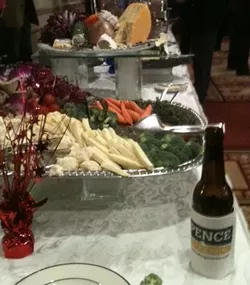 Food/Drink:
The GOP contender didn't skimp on refreshments. The (free!) bar featured top-shelf liquor (Beefeater, Jim Beam, Cutty Sark, Bacardi) as well as wine. Beer drinkers (Bud Select, Michelob Ultra and Heineken) got a "Spence for Governor" beer koozie with their drinks. The buffet table stretched for nearly 30 feet and offered various cheeses, vegetables and a few hot trays with chicken and shrimp.
Mood:
Music could have helped energize the room, but there was none to be had last night. A din of chatter provided the evening's soundtrack. Still, as we said, it wasn't the gloomiest of affairs as the outcome was evident early in the night.
Attire:
We observed one man dressed in a sweatsuit. Most every other male attendee wore a business suit. Cocktail dresses and pant suits were the outfits of choice among female supporters.
C
elebrity sightings:
Remember former KSDK sports reporter Malcolm Briggs? He introduced Spence to the crowd.
Overheard:
"This is the beginning of the end." (Heard during Todd Akin's concession speech that aired around 9:30 p.m. on monitors inside the Spence watch party. Spence's concession speech would follow an hour later.)
Party score on scale of 1-10:
Six. Spence's watch party won't be recreated in any upcoming Todd Phillips' film (
Old School, The Hangover
), but, hey, you won't go thirsty (or hungry) at a Spence shindig. That's worth something.