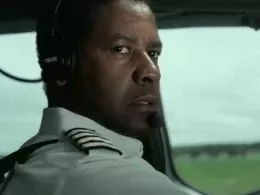 "I drink Bud in this movie and you're saying you DON'T like that, A-B InBev?"
Oh, those devilishly clever execs at
Anheuser-Busch InBev
.
First, they discover that Robert Zemeckis' brand-new film
Flight
contains scenes where Denzel Washington's character -- an alcoholic airline captain -- swills bottles of Budweiser.
Let's put that another way: They figure out that millions of people will be gaping at one of Hollywood's handsomest actors as he holds their product. Man, what a PR
disaster
!
So the A-B InBev execs send a whiney letter to Zemeckis' production company, Image Movers, as well as Paramount Pictures, saying:
We would never condone the misuse of our products, and have a long history of promoting responsible drinking and preventing drunk driving. It is disappointing that Image Movers, the production company, and Paramount chose to use one of our brands in this manner.

They're so embarrassed, in fact, they
forward this letter to Reuters
, who writes a story Monday saying that A-B Inbev has asked Zemeckis
et al
to "obscure" the red-and-white Budweiser label in current digital copies of the movie and all other copies to come.
At this point, every news outlet in the country picks up on A-B InBev's legal wrangling. Of course, this will lead exactly nowhere, according to an interview ABC News
just did
with
Monica Riva Talley
, a D.C.-based attorney with a specialization in trademark law:
"Courts are very reticent to restrict the First Amendment right to creative expression based on negative portrayal of a brand name in a movie, provided use of the trademark/brand name has some artistic relevance to the work," she said, citing similar cases such as the recent ruling dismissing Louis Vuitton's lawsuit against Warner Brothers over use of knock-off handbags in a scene in "The Hangover Part II."

But we're pretty sure the A-B InBev guys are well aware of this. First they get free advertising in the movie, and now, free advertising in the press? Wazaaaaaa!
Here's the movie trailer: