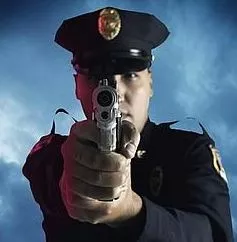 Again, we reiterate: Not smart to aim a gun at the fuzz.
Just before 9 pm on Monday, the city cops say, a 17-year-old white female was inside her 2003 Hyundai Sonata in the Baden neighborhood of North St. Louis.
According to what she later told officers, she was approached on the
1100 block of Riverview Boulevard
by one of three suspects -- all described in the report as a "juvenile black males" -- who pointed a gun at her, demanded her car and drove away in it.
The cops issued an all-points bulletin for the car.
Officers soon spied it near the intersection of Eaton and Riverview. They chased it into
Vivian Astra Park
.
At that point, police say, the suspects piled out of the car. At least one of them pointed a firearm at the officers.
In response, a 26-year-old male officer with four years of service under his belt fired "several rounds" and hit one of the suspects in the foot. The three suspects then surrendered.
The investigation is ongoing.