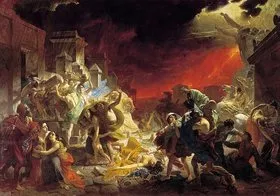 "The Last Day of Pompeii" by Karl Briullov
End-times: Jackson County on Wednesday?
Where will you be during the Second Coming of Christ? You might want to consider Jackson County, Mo.
In the final days of the presidential campaign, a 2007 video of Mitt Romney angrily (and somewhat hastily) explaining the end-times theology of Mormonism has become an internet sensation. In the video, shot off-air during a radio show by secret camera (damn them!) Romney is asked about the Second Coming of Christ, which some Mormons believe will happen in Missouri.
In the video, a very testy Romney argues with Jan Mickelson, the host of a popular conservative show on WHO-AM in Des Moines (the video and a couple others of Romney answering questions about the Church are at the end of this post):
Christ appears - it's throughout the Bible - Christ appears in Jerusalem, splits the Mount of Olives to stop the war that's coming in to kill all the Jews. Our church believes that. That's where the coming and glory of Christ occurs. We also believe that over the 1000 years that follows, the Millennium, he will reign from two places, that the law will come forward from one place--from Missouri--and the other will be in Jerusalem.
Now post-apocalyptic biblical literalism will make any religion look pretty kooky, but we bet you never thought Missouri might be one of God's two go-to command centers after Armageddon rolls around.
So how did Missouri become the Lord's chosen land? We did some digging at the library and humbly present some FAQs: How did Mormons get to Missouri in the first place?
This all started shortly after Joseph Smith Jr. founded the Mormon religion in 1830 in religious revival-crazy upstate New York. The founding text of Mormonism is the Book of Mormon, which is said to have been derived from a set of gold tablets that were given to Smith by an angel (and returned to the same angel after Smith had translated them).
(Some) Mormons believe that texts like Isaiah 24:23 that describe God's reign over Zion and over Jerusalem refer to two different geographical locations. Smith is regarded as the Church's sole prophet and he is the one who relayed the news that Zion was in America's heartland on July 20, 1831. He was told about Missouri via divine revelation (sorry, we can't fact check that). Smith had visited Independence (the seat of Jackson County) in 1830 on a missionary trip and apparently liked what he saw--even though the land was already occupied by "enemies".
If ye are faithful, ye shall assemble yourselves together to rejoice upon the land of Missouri, which is the land of your inheritance, which is now the land of your enemies. (Doctrine and Covenants 52:42)
In its early days, the Church of Jesus Christ and the Latter-Day Saints was constantly under attack by hostile locals in a country that supposedly guaranteed religious freedom. After striking out in New York, and then Ohio, Smith directed his followers to keep moving west--on to Zion.
Short-sleeved button-downs weren't in Smith's plat, but are still quite popular in the faith.
What was the plan for Independence, MO? Basically Smith and his 300 or so followers wanted to create a master-planned community where they could model their faith and await the Second Coming.
In 1832 Smith sent his followers in Missouri a plat (i.e. a plan for a plot of land) of the City of Zion that was to be located near Independence.
According to the first volume of B.H. Roberts' six-volume history of the church of the Latter-Day Saints, Smith's directions for settling the city (which had already been settled by traders and natives) were incredibly specific:
That drawing included written specifications for the city and was accompanied by a letter with a further explanation of the design. The notes on the drawing specified that all streets were to 132 feet wide. These created square blocks of 10 acres measuring 660 feet on each side. A center tier of blocks containing the storehouse and temples was wider, with blocks that measured 660 by 990 feet. Each half-acre lot was 66 by 330 feet. Smith described the curious orientation of the lots that he arranged "so that no one street will be built on entirely through the street." This system called for lots that ran north-south flanked by blocks with lots oriented east-west. Each house thus faced the side of a lot on the opposite side of the street.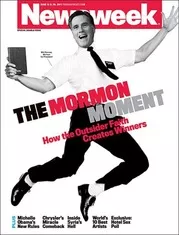 What's supposed to happen during the Second Coming of Christ? Like most evangelical Christian texts, the Book of Mormon tells us that the Second Coming of Christ marks the completion of Earth as a testing ground for human souls. Some Mormons refer to the Second Coming as the Millennium, a time during which Jesus will personally rule Earth and peace, happiness, and justice will be the new norm.
The Millennium happens right before God passes his final judgment over humanity (will we attain celestial glory for all eternity or rot in Hell?), but not before a massive world war wipes out all evil.
Why isn't Independence the Mormon capital of the world? Once Smith and his followers got settled around Jackson County, the locals started to get hostile.
In 1838 and 1839, after an "extermination" order (Missouri Executive Order 44) issued by Gov. Lilburn Boggs, 8,000 to 10,000 Mormons were driven out of Missouri. Boggs had declared Mormons in "open and avowed defiance" of the state's laws and of having made war upon the people of Missouri.
"The Mormons must be treated as enemies," Boggs said, "and must be exterminated or driven from the State if necessary for the public peace; their outrages are beyond all description."
On October 30, 1838, a unit of the state militia killed 17 men and boys, all members of the Church of Jesus Christ of Latter-day Saints, in what is now known as the Haun's Mill Massacre. The members of the militia/mob that attacked were never prosecuted. It wasn't a proud moment in Missouri history.
For a time adherents to the Mormon faith settled in Illinois but another war forced them to press on to "empty" lands out west in Utah. The religion has been based out of Salt Lake City for the last 150 years.
Why were Mormons so persecuted in Missouri? Part of the conflict stemmed from age-old local-settler tension (the kind of stuff we see here in St. Louis... *cough* Wash. U grads *cough*). As the Mormons' numbers grew and grew, original settlers feared they were being overrun and outdone. Wikipedia breaks it down thusly:
They believed that if they were righteous they would inherit the land held by others in Missouri.
Their economic cohesion allowed the Mormons to dominate local economies.
They believed that the Indians were descendants of Israelites, and proselytized among them extensively.
Most Mormon immigrants to Missouri came from areas which were sympathetic to abolitionism.
They tended to vote in blocks. Where there was a critical mass of Mormons in the community, they were frequently viewed as having sold the election to the highest bidder, although there is no recorded proof of this ever taking place.
According to Alexander Baugh's A Call to Arms: The 1838 Mormon Defense of Northern Missouri, the Mormons were flogged, disarmed and run out of town by vicious Missouri slave-owners. Again, not a proud moment in Missouri history.
Does Romney believe in Millennium? Judge not lest ye be judged, so go ahead and judge for yourself. Check out the 2007 video in question: Or watch these more poised Q&As: