John Pa and Matt Seilback of Anastasis Films have done bleeding heart St. Louis pride. They've done a truly badass campaign ad. And now they're back at us with a hilarious political parody in cartoon form!
A handy reference guide on the next page.
1. Obama's energy policy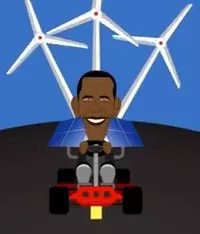 Obama's interest in alternative energy, as evidenced by the wind turbines and solar panels that power his go-cart. See "Obama Says Alternative Sources Answer for Rising Energy Costs" from Bloomberg Business Week.
2. Romney's energy policy Romney's go-cart appears to be powered by coal (note the black exhaust). See "Mitt Romney's Coal Complex" from Slate.
3. The Curious Incident of the Dog
Romney also has a dog riding atop his vehicle, referring to a family vacation in 1983 during which Mitt put the family dog in a crate and tied him to the roof of their car for a twelve-hour drive. See Wikipedia's article "Mitt Romney dog incident". Fun fact about Romney's pragmatic determination: Mutt Romney had a bout of diarrhea as he rode atop the car -- which didn't look pretty to his wife or kids as it dripped down the windows. Romney pulled over at a gas station, hosed everything down and moved along. The '80s were a time before pet enemas and doggie acupuncture.
4. Big Bird
Romney sure has taken some shit for this one. See "Does Mitt Romney Want to Kill Big Bird" from the Washington Post.
5. Obamacare Obama gasps as he sees Big Bird with track marks covering his gentle yellow feathers and offers him an "Obama Starter Pack." No such thing as a "starter pack" (not yet, anyway). Lots of controversy here, so Daily RFT will direct you on to Wikipedia's entry on "Patient Protection and Affordable Care Act".
6. Binders Full of Women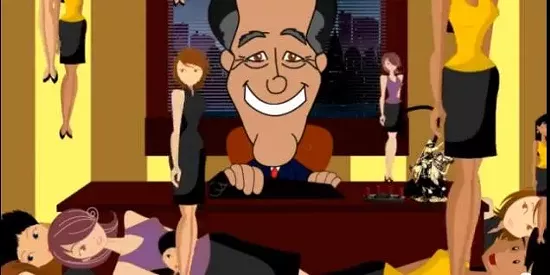 Sitting at his desk, Romney opens a magic binder full of women! See "Mitt Romney's 'Binders Full of Women' Comment Sets Internet Ablaze" from the Daily Beast
7. Romney's paperweights Romney keeps a statuette of Teddy Roosevelt, a (sort of) Republican (*cough* who was actually quite progressive*cough* party switch *cough*) whom he's been trying to model himself after. He also has a battleship, a reference to Obama's sharp retort to Romney's defense of military spending in the third presidential debate. See "Obama Sinks Romney Charge On Shrinking Military" from The Huffington Post. Obama told Romney: "I think Governor Romney maybe hasn't spent enough time looking at how our military works. You mentioned our Navy, for example, and that we have fewer ships than we had in 1916. Well, governor, we also have fewer horses and bayonets, because the nature of our military has changed. We have these things called aircraft carriers, where planes land on them. We have ships that go under water.
"The question is not a game of Battleship where we're counting ships. It's what are our capabilities," he said.