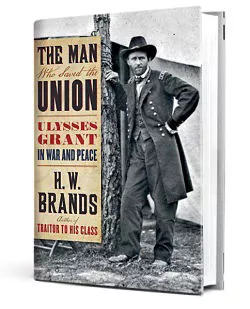 H.W. Brands' new book The Man Who Saved the Union is not the first book we've encountered about Ulysses S. Grant this year, but it's certainly the most voluminous. Brands, a professor at the University of Texas at Austin, was in St. Louis yesterday to talk about the book at the Missouri History Museum and the Ulysses S. Grant National Historic Site at Grant's Farm...and with Daily RFT.
Why here? Well, Grant is the only U.S. president ever to have lived in St. Louis; his wife, Julia Dent, was from here, and after he retired from his first stint in the Army in the 1854, he tried to make a living farming what is now Grant's Farm (though it should probably technically be called Dent's Farm, since his father-in-law owned the land) and then selling real estate in the city. Both enterprises failed, and he decamped, in disgrace, for his family's tannery in Galena, Illinois.
And why Grant? Let Brands explain.
H.W. Brands: One of the reasons I took [Grant] on was that I came to appreciate that the most difficult time to be president was during Reconstruction.
Daily RFT: Even more than during the war?
During the war there's no politics. The armies just line up and slug it out. Once the South goes out, Lincoln doesn't have to get the South to agree with him anymore. War simplifies things. People are either for or against you. And for an individual, war is far simpler. Grant exemplifies a common experience of a person who did well in war who was not successful in civilian life. He could not get himself together.
By the end of the St. Louis period, when he took refuge in Galena, Grant has accepted his humiliation. Unlike Napoleon or Alexander the Great or Theodore Roosevelt [subject of a previous Brands biography], whose ambition you could see from a distance, Grant did not have a burning drive to make himself great. He just wanted to have an OK life, to be a good father and husband -- and then came the war.
Which changed everything.
Studying Grant during the war, I'm both admiring and appalled. In war, you do what you have to do, to give the order for battle knowing that thousands of young men will be killed or wounded. It's arguable that [General George B.] McClellan was better at preparing for battle, but he couldn't pull the trigger. You need people to do that.
And Grant was in the Mexican War. He knew what it was all about.
He was under no illusion. [General William Tecumseh] Sherman was the one who actually said "War is hell," but Grant believed it, too. But war made everything simpler. Sherman was frustrated by civilian life. He was brilliant but also mildly unhinged. War let him rise above his problems at attach himself to some transcendental purpose. Grant wasn't a depressive like Sherman, but the same was true for him and all the generals of the Civil War. As Robert E. Lee said, it's a good thing war is so terrible because we love it too much.
But then Grant became president, which was totally different.
If Lincoln had not been assassinated, his historical reputation would be far lower, more akin to Woodrow Wilson, who won the war but lost the peace. The South was defeated, but it was not persuaded. White Southerners still believed they had a higher place in the social pyramid than blacks. Slavery was no longer viable, but they still believed in white supremacy and they prevented the freedmen from exercising their rights. Grant sent in the Army to enforce equal rights. He broke up the Ku Klux Klan and demonstrated that insurgent military force would not be used in the United States.
He was able to stand up for his principles, but he couldn't hold back the tide of prejudice. It's the conundrum of democracy: What do you do when the majority wants to trample the rights of minority? There's only so much the government can do. The rule of the law rests on the citizenry. Grant was the only president to support civil rights until Lyndon Johnson. It just shows how much more complicated politics is than war. War is simple. You just have to demonstrate your strength. You don't have to persuade the reluctant.
Where did those principles come from? From growing up in Ohio, a free state?
It's one of the great ironies of American life. Grant marries a girl from Missouri, which was a slave state, but not part of the Deep South, and acquires slaves. They were hers at first, but they were the only way he could get help on the farm. It always made him uneasy. He manumitted a slave.
I like that story. He needed money and could have sold him, but he let him go instead.
Yes. And then he becomes a general. Missouri's still part of the Union, but there are still slaves. So there are slaves in the household of the commanding general of the Union Army.
So how did Grant get his reputation for being such a lousy president? Did you write this book to get him off the Worst President lists?
Civil War photographer Mathew Brady's portrait of Grant at the Battle of Cold Harbor. Where, incidentally, the Union took a thrashing.
Grant will never be considered one of the great presidents. The odds were too strongly against him, but you have to give him credit for having the right motives. Reconstruction defeated every president it touched. The country was ungovernable. And the Gilded Age was one of the most scandalous eras in U.S. history. The executive branch was not untouched by scandal, but some of the biggest scandals, the Boss Tweed ring in New York City, were seen as evidence of the scandalous Grant administration. Grant himself had a trait that was praiseworthy in personal life, but not as much in politics, which was loyalty. He had a hard time believing that someone who served him well during wartime wouldn't do the same during peacetime.
The core of the problem was that the South, almost to a (white) person, resented Grant for trying to enforce civil rights. This gave them incentive to criticize and slander his reputation when he left office. The cliche is that the victors write the history, but in this case, it was the losers. They were abetted, ironically, by some of the northern Republicans who, after the war, didn't care about blacks so much as they cared about industry. Grant nagged at their conscience. Some of those Republicans ran against Grant in 1872 and enlisted the intellectuals. They wrote the history and that interpretation [of Grant being inept and corrupt] carried the day.
One would think Grant would have gotten a fairer hearing from civil rights historians, but the fact that he had a military background worked against him. In the 60s, if you wrote about the military, you were considered in favor of the Vietnam War.
Poor guy. He couldn't ever catch a break. Even at the end of his life, he ended up broke.
The rest of us benefit from Grant's misfortune. His memoirs are a great example of American literature and the genre of the military memoir.
Grant's sense of self didn't depend on how he was doing on the battlefield or in politics. He was comfortable in himself. When he resigned himself to mediocrity [in Galena], it didn't sit poorly with him. He was OK with that. Even being a victorious general didn't turn his head. After the war, he said the victory came as the results of many people's efforts; Sherman could have done as well.
But Grant was the most popular public figure in America during his lifetime. He was elected twice. He could have run for a third term, but decided not to. When he died in 1885, there was an outpouring of support, and when they dedicated his tomb twelve years later, there was another outpouring of support. He was a unifying figure. In his funeral procession, Confederate veterans marched alongside Union veterans. Confederate officers served as pallbearers. The Union band played "Dixie." The country has never seen seen anything like it since.