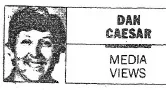 Dan Caesar in 1990, the year he humiliated a wannabe broadcaster.
He resides among the cellar dwellers in RFT's St. Louis Sports-Media Power Rankings (at No. 44 in our list of 50), but Dan Caesar can still throw a punch.
In fact, in a tussle back in 1990, the Post-Dispatch sports-media critic once made Joe Buck (No. 8 in RFT's ranking) cry.
Sports Illustrated leaked details of the sports-media shocker in last week's magazine that profiled Buck as he prepared to call the World Series for FOX Sports. The story mentioned how Buck's dad (the late, great voice of the Cardinals, Jack Buck) steered his son toward the broadcast booth. By the age of 21, the young Buck (pardon the expression; it's unavoidable) was well on his way to achieving stardom when Caesar weighed in on the matter. As SI writes:
Joe was ready for every part of the job except this: "Why is a kid, still in college, showing up on what many broadcast people consider the premier local team network in baseball?" Dan Caesar wrote in the St. Louis Post-Dispatch in June 1990. "The reason is simple. And it's spelled B-U-C-K." Joe read the column and cried.
And that's not all Caesar wrote. In the same article he added:
A terrible re-enactment of Joe Buck crying.
"But the burning question is why is Joe Buck, at age 21, being force-fed to Cardinals fans?"
"In a highly competitive, sometimes vicious field, how many people would take vacation, a leave of absence or even quit their job to do even a few Cardinals broadcasts?...Would that chance be taken with any other unproven announcer?"
"Joe Buck makes it clear where he wants to end up. [St. Louis] Maybe. Eventually. But not at age 21, even in a limited role. It just doesn't sit right."
So how about it? Was the
Post-Dispatch
columnist too tough on Joe? For that we turn to Caesar himself. "As far as hindsight, I don't think I was too hard on him," says Caesar, who informs Daily
RFT
that Buck has previously confessed to sobbing from the article -- just never in such a high-profile platform as
Sports Illustrated
.
"I went back and re-read that story and the theme of it was him having doors opened for him because of his name, not about his talent level," says the columnist. "He was very young at the time and was getting a bunch of chances he would not have had if not for his name."
Today Caesar has a different opinion of Joe Buck. He's one of the "best ever" in his field, he says.
"Bottom line: His last name got him in the door in sportscasting. But his own hard work and natural ability are what have vaulted him to the top. There is absolutely NO question about that. I don't care what his name is. He wouldn't be where he is now if he wasn't at that elite level."
Caesar's original column (just as it appeared in the June 22, 1990 edition of the Post-Dispatch) can be found on the next page. Read it and weep! Note: Zoom in on the article by clicking the magnifying glass at the bottom of the page. Dan Caesar on Joe Buck