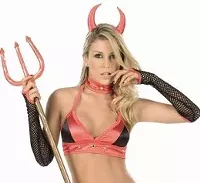 Better take I-44 across the PSB for this kind of trick-or-treating
For those of you Halloweenies who enjoy when people
take off
their costumes more than when they put them on, know this:
You can't get to the East Side tonight via I-64 (a.k.a. "Highway 40.")
It'll be closed between Jefferson Avenue and the Poplar Street Bridge from 8 pm Wednesday until 5:30 am Thursday,
sayeth
the Missouri Department of Transportation.
What they're doing is removing that concrete barrier in the downtown section of 40, which causes such a tight squeeze, it's almost impossible to text while driving. So this work is necessary.
If you really want your IL-side tricks and treats, you should head all the way down Jefferson Avenue and head east on I-44, merge onto I-55 then hop onto the Poplar Street Bridge and cross the river that way.
Here's all the
deets from MoDOT
.