When it comes to Peabody Energy Corp., it's hard to tell who's being naughty or nice.
This week, the activist group Missourians Organizing for Reform and Empowerment has been staging demonstrations against Peabody, the largest private-sector coal company in the world, headquartered in downtown St. Louis.
Their first act of defiance against the energy giant was this banner off of the Kingshighway exit of I-64/40:
Courtesy of Molly Gott and MORE
The banner drop on Tuesday kicked off MORE's "Post-Peabody St. Louis" week of action, a series of events that call attention to the environmental impact of the coal industry, St. Louis' increasingly high asthma rates, and a recent lawsuit that pits Peabody against retired miners who are claiming they were denied their due health coverage.
Arielle Klagsbrun, a community organizer with MORE, says the group is calling on St. Louis to "divest from big coal" and shed light on the company's "greenwashing".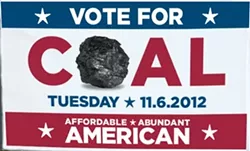 A reminder on Peabody's homepage.
"Peabody is trying to become what Monsanto is," Klagsbrun says. "They're making huge contributions around town -- buying the opera house, funding these research institutes at Wash. U.. All of that is great, very nice, but it's for PR, and it's for their own preservation in this community."
But Meg Gallagher, a Peabody Energy spokesperson, says the group's accusations are unfair and unfounded.
"We believe it's offensive for any activist group to deface property or suggest that major local institutions are beholden to the thousands of individuals and businesses donating to them," Gallagher says.
The Peabody Energy Corp. building on Market and Eighth streets.
MORE has been calling foul on Peabody's relationship with local institutions over the last few years. In a release from the group, MORE member and Wash. U. student Dan Cohn says he believes Peabody is trying to "stamp its brand name on our city" to distract from larger criticisms of the industry.
Peabody's third-quarter earnings surpassed analysts' expectations this week at a $42 million net profit (down from $247 million in Q3 last year).
According to Gallagher, Peabody gave more than $5 million in philanthropic contributions to non-profits in and around St. Louis last year. She says those contributions were made "with no strings attached."
This week, students at Washington University with an axe to grind against coal called on their administrators to change the name of an on-campus research institute called "The Consortium for Clean Coal Utilization". The institute is funded by Peabody, and many activists say "clean coal" is a PR misnomer that masks the environmental hazards of coal production.
Klagsbrun, who organized against the coal industry as an undergrad at Wash. U., says MORE is also up in arms about the St. Louis Development Corporation's proposal to give Peabody $500,000 for "office renovations" in its Market Street building.
Amid the fray this week, Peabody was sued by employees from its subsidiary Patriot Coal, who claim their "shell company" was only created to short retired mine workers and their families the medical benefits they were owed. The class-action suit was filed in West Virginia. Click onto the next page for a press release from the miners' union that is suing. Press release from the miners' union:
UMWA retirees and employees at Patriot Coal, and union file class action suit seeking payment from Peabody Energy and Arch Coal for promised retiree benefits

[CHARLESTON, W. VA.] Eight retired and active members of the United Mine Workers of America (UMWA) and the union itself filed a federal class action suit late yesterday in the Southern District of West Virginia, asking the court to "enter judgment against Defendants declaring that Defendants are obligated to maintain funding of the Plaintiffs' benefit plans."

The suit is filed on behalf of more than 10,000 retirees and active workers whose health care and pension benefits Peabody and Arch transferred to the Patriot Coal Company, which is in Chapter 11 Bankruptcy reorganization.

The suit maintains that Peabody and Arch "planned to transfer (their) employees and benefit plan obligations to Patriot for the purpose of depriving (their) employees and retired employees of their welfare and retiree benefits." This is illegal under the Employee Retirement and Income Securities Act (ERISA).

ERISA Section 510, 29 U.S.C. § 1140 makes it unlawful to "discharge, fine, suspend, expel, discipline or discriminate against a participant or beneficiary for exercising any right to which he is entitled under the provisions of an employee benefit plan, . . ., or for the purpose of interfering with the attainment of any right to which such participant may become entitled under the plan . . . (emphasis added)."

"Peabody and Arch established separate spin-off companies, which have become today's Patriot Coal, with the publicly stated intention of getting rid of their obligations to the retirees who gave a lifetime of service to those companies," UMWA President Cecil E. Roberts said. "The companies bragged about getting those liabilities off their balance sheets.

"And as people with long experience in the coal industry, they knew that the cyclical nature of the industry would inevitably lead to Patriot's inability to pay for those liabilities," Roberts said. "It was a company set up to fail. But under the law, that does not relieve Peabody and Arch of their obligation to these retirees, their spouses and their widows."