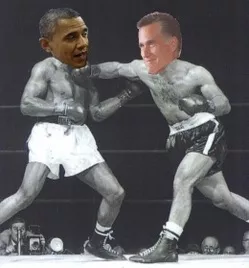 Incredible Photoshopping by Nicholas Phillips
Ready to spice up this election?
As the general election approaches, candidates try harder than ever to court voters (except not really in Missouri). If you're like Daily RFT, you've grown weary of the debates and heated verbal sparring. Back in ye olde days, when brains fell short, candidates seeking public office courted the public with stunning displays of brawn.
After three policy-heavy presidential debates, who doesn't want to see Mitt Romney and Barack Obama throw down before Election Day? Lets hold one last "debate" but instead of going over the finer points of Medicare, lets have Obama and Romney toss podiums across the auditorium, or skin and de-bone real Big Birds.
To stoke the competitive flames, here are seven amazing feats of strength from politicians across the country. From Board of Alderman president Lewis Reed to Abe Lincoln (before he was slaying vampires), these guys and gals knew how to engage an electorate... or die lifting.
7. John Quincy Adams - 6th President (1825-1829)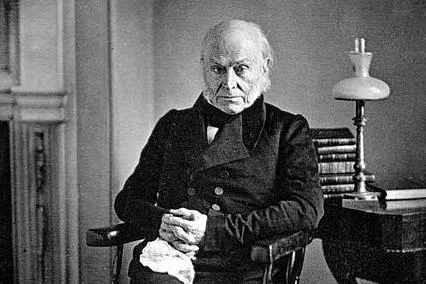 A buff president... or at least one who liked to be in the buff.
These days a politician can't email a blurry photo of his schvantz to a personal friend without it ending up in the New York Post. But back in the day, White House staff were accustomed to seeing sixth president John Quincy Adams' little commander-in-chief. Adams used to start every work day with a 5 a.m. naked dip in the icy Potomac River.
Anne Royall, largely considered the first professional female journalists in the country, seized an opportunity to interview Adams in a moment of vulnerability. After having her interview requests turned down multiple times, the intrepid reporter followed Adams out to the Potomac and sat on his clothing while he was submerged in water until he agreed to answer her questions. She was the first woman to score an interview with a president-- but Adams was hardly the first or last president to be seen naked by an unmarried woman. Lewis Reed - President of the Board of Alderman, Candidate for STL Mayor Lewis Reed is running and in case you didn't know, he's got a hard-ass campaign video to prove it. His campaign is about three weeks in and so far they've shown no signs of letting up on this "running" wordplay. Reed's dramatic campaign video shows him jogging wordlessly through dark, empty streets around town. We're hoping that instead of debates this winter, Reed and Mayor Francis Slay (also a runner) agree to a one-on-one race to crown the city's mayor. The downtown stretch of 64/40 might be the perfect setting. Close to their offices, perched up above the city with great views and perennially closed for construction, that MoDOT fiasco offers everything a mayor could want. 5. George Washington - 1st President (1789-1797)
Washington and co. had to go retrieve that piece of slate.
In many ways, George Washington was America's first superhero. And like any superhero worth his salt, Washington had some big guns. According to his grandson, our first commander-in-chief once threw a piece of slate over 250 feet, across the Rappahannock River in Fredericksburg, Virginia... just to prove that he could. That's 83 yards.
Sure, on the scale of acts of tremendous heroism, it might've been more impressive for Washington to rescue an 18th Century Wonder Woman from a burning house. But lets not forget here that, in addition to being able to throw a rock a freakish distance, he also founded this country. 4. Gerald Ford - 38th President (1974-1977)
Gerald Ford in UMich blue.
In another life, Gerald Ford might've played center for the Green Bay Packers. Ford went to University of Michigan on a fooball scholarship and the Packers, Detroit Lions, and Chicago Bears came calling soon after he graduated. He turned multiple NFL contracts down to attend law school at Yale.
Ford was the only U.S. president to tackle a Heisman Trophy winner, after he brought down halfback Jay Berwanger at a 1934 game against University Chicago. Berwanger became the first ever winner of the Heisman Award the following year. Ford walked away from the encounter with a distinctive scar under his left eye. 3. Paul Ryan - Congressman and VP candidate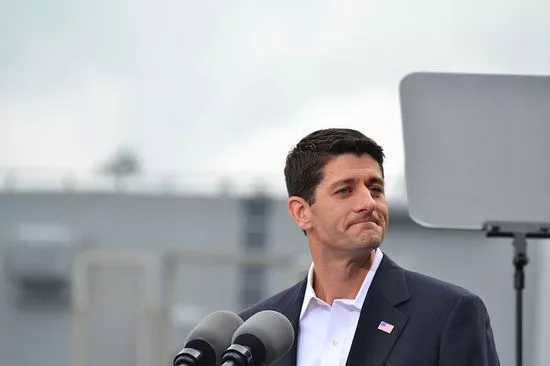 You might've caught Paul Ryan's sculpted biceps in TIME last week. But far right as you may be, you probably weren't as excited as we were when we learned Ryan has been known to noodle in his spare time. RFT's love affair with the noodlers of Missouri goes back a ways. These are the fearless men and women who grab large catfish from the muddy bottoms of lakes with their bare hands. Catfish noodling isn't your run-of the-mill fishing trip. In using a May 2007 feature story about this extreme, occasionally-outlawed sport, we reported how lifelong noodler Howard Ramsey landed an especially feisty 64 lb beast:
Jennifer Silverberg
A Missouri noodler displays his bounty.

"This fish was about six or eight foot back in a hollow log," Ramsey explains. "So my son pushed me into the hole headfirst and grabbed my ankles."

Wearing nothing but a pair of jeans, Ramsey found himself submerged in the river's cloudy water and nose to nose with the fish, which was guarding its cache of eggs. Ramsey put his hands in front of him as he approached, inducing the flathead to attack with its weapon-like lower jaw.

In other words, he had that catfish right where he wanted him.

"He's chewing me any place he can grab," Ramsey says. "Then I put both hands in his lower jaw, and--"

Thinking better of divulging a bit of hard-won strategy, the fisherman says tersely: "Well, I'm not going to tell you all the secrets."
When his puppy dog eyes aren't trained on a TV camera or the latest Ayn Rand anniversary re-release, Paul Ryan likes to go out with the guys and scour river banks for catfish nests.
"You get your hand inside the fish and they kind of, they come up on your hand. Then you just squeeze wherever you are on that fish and pull it out," Ryan told the New York Times several months ago. "I know it sounds crazy, but it's really exhilarating." 2. Theodore Roosevelt - 26th President (1901-1909)
Yeah, he was a pretty rough rider.
Of all American presidents, it's hard to say what the manliest feat of strength this defender of the wilderness can lay claim to. There was his time as a cowboy in the American midwest and his big game hunts in Africa. And then there was the time he took a bullet straight to the chest and still managed to deliver a 90 minute stump speech (90 minutes! Only Bill Clinton could do better). But it's the 1,500 mile expedition he led down an unmapped river in the Amazon in 1913 that really stands out.
Roosevelt had just lost out on a third-term as president and needed something to make him feel alive again. Most people choose pleasure cruises or retirement villas for their retirements, but not Teddy. A treacherous journey across uncharted territory sounded about right. The lifelong conservationist killed two jaguars the first day. Roosevelt once said real men do "not shrink from danger, from hardship, or from bitter toil."
He came back from the brink of death on the Rio da Duvida ("River of Doubt") in Brazil, after a leg wound left him feverish and malarial. We was nearly 60 pounds lighter when he returned home, and ready to go moose-hunting again.
Source: The River of Doubt: Theodore Roosevelt's Darkest Journey by Candice Millard 1. Kirsten Gillibrand - Senator (D-NY)
Via Vogue
Serious lady swagger.
Men (and Sarah Palin) might have guns, extreme fishing, and more subtle forms of penis-wagging, but there's nothing more bad ass than giving birth. Kirsten Gillibrand--only the sixth woman to give birth while serving in Congress--knows this well. She became pregnant with her youngest son shortly after she was elected to the House of Representatives. At nine months pregnant, she spent 12 hours on the House floor on May 14, 2008 so that she could vote on a farm bill. That evening she went into labor.
Still don't think "giving birth" deserves the top spot here? Youtube it and get back to us.
Or just take it from this guy:
Source: "The Reintroduction of Kirsten Gillibrand." New York Magazine