Kelli Allen, who will be reading from her first collection of poetry, Otherwise, Soft White Ash at 7 p.m. this evening at Left Bank Books, does not consider herself a confessional poet. Though some of her poems concern the final illness and death of her mother, many others come from myths and fairy tales and the Great Subconscious.
Some might call it the world of dreams -- if Allen, who teaches in the Lindenwood University MFA program; is involved in several projects in the St. Louis poetry community, including judging the St. Louis Poetry Center's annual writing contest and organizing the River Styx Hungry Young Poets reading series; and, incidentally, is the mother of five kids, ranging in age from three to twelve, ever had time to sleep.
"Everything I understand about myself comes from fairy stories," Allen explains. "The force [of nature] takes non-human form. It plays with us in a charming way and explains things we can't."
Allen is particularly attracted to foxes and coyotes, who are trickster figures in many cultures ("They're much more interesting than the traditional male figures; there's too much of them we already know") and to swans. "Swans are both delicate and aggressive at the same time," she explains.
Several of Allen's poems are based on the fairy tale "The Twelve Swans" in which a young woman rescues her twelve brothers who have been transformed into swans by an evil sorceress. But in the end, the spell is incomplete: Instead of an arm, one of the brothers still has the wing of a swan.
"I love that he's connected to both worlds," Allen says. "You're always connected to the world above and below."
The idea of two worlds, one "real" and the other surreal, reminds Allen of her own children, particularly 10-year-old Elijah, who has Asperger's and an anxiety disorder and is bipolar and also suffers from asthma and high fevers that descend suddenly for reasons no one can understand. He's the only one of her children she's ever written about.
"He experiences the world in a way I can't understand," says Allen. "I write about him through the experience of seeing the world as he does, how he fits into a world that's not ready for kids like that. Otherwise, I can't write about being a mother. I can't keep the sentimentality out."
Allen doesn't consider the rest her own biography particularly interesting. A self-described military brat, she grew up in many different places (some of which figure in her work). She met her husband when they were freshmen at Saint Louis University and they settled here six years ago, in order to be closer to his family. She got her MFA from UMSL and then started teaching.
All that is far less fascinating to her than the possibilities of language.
"I've been criticized for being too heady," she says, "for using too much philosophy and art. But I prefer the arsenal of what's out there. I'm not that interesting. I'm much more interesting with Rilke at my back."
Although Otherwise, Soft White Ash just came out, Allen is already at work on her second book, called Daughter of Sisyphus. She works mostly at night, after her kids have gone to bed. "I come alive then," she says. "I'm in a different gear, being creative."
Read Allen's poem "Clearing Materials of Exile" after the jump: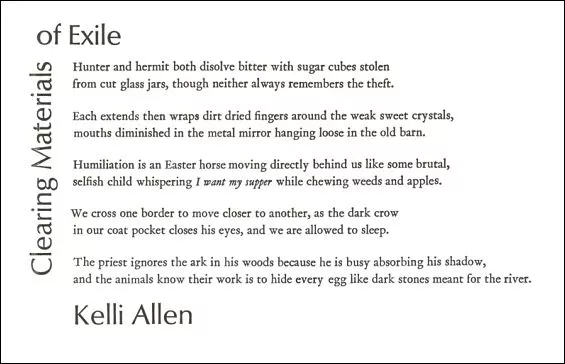 Courtesy Architrave Press